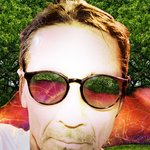 pinzarrone
This new body of work is fractal based, high resolution graphics by Paul Pinzarrone. The original work is all printed on high resolution gloss aluminum sheeting or printed onto Kodak Endura metallic paper and mounted to the back side of clear acrylic [Plexiglas] and framed. These images are built from many layers inside of an assortment of digital software programs. For a resume, more information and latest exhibition news see: http://www.pinzarrone.net https://www.etsy.com/shop/PaulPinzarrone https://www.facebook.com/paul.pinzarrone http://www.redbubble.com/people/pinzarrone To contact me: paul@pinzarrone.net pinzarrone joined Society6 on January 2, 2016
More
This new body of work is fractal based, high resolution graphics by Paul Pinzarrone. The original work is all printed on high resolution gloss aluminum sheeting or printed onto Kodak Endura metallic paper and mounted to the back side of clear acrylic [Plexiglas] and framed. These images are built from many layers inside of an assortment of digital software programs.
For a resume, more information and latest exhibition news see:
http://www.pinzarrone.net
https://www.etsy.com/shop/PaulPinzarrone
https://www.facebook.com/paul.pinzarrone
http://www.redbubble.com/people/pinzarrone
To contact me: paul@pinzarrone.net
pinzarrone joined Society6 on January 2, 2016.