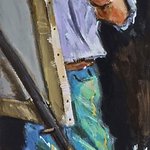 Piubeniart
Davide Piubeni was born in Sarezzo, near the city of Brescia in Northern Italy. He graduated from the Accademia delle Belle Arti di Bera, Milan, in 1994. His artistic career had its beginnings in Brazil, where he produced very large biblical scenes for the church of Viseu, later for the cathedral of Braganca and San Vicent of Paul, in Belem du Para. On his return to Italy in 1995, he had two solo shows, in Brescia and Milan, depicting biblical scenes from the Old Testament. As the result of very favorable reviews, several dioceses in major Italian cities commissioned him to create new works for their walls. He has since traveled to Spain, Miami, Australia, Guatemala and to Peru having great success portraying local landscapes and showing and commissioning works. He has painted California from Mendocino to San Diego and has made his home in Southern California. Davide says "It's beautiful to catch with some fantasy the colors and the shadows early in the morning or at sunset, because at these particular times the contrast of the colors become strong and the shadows long. Then I transform the landscape with the feeling I want to incorporate in my artwork, for example painting big or tiny trees, plants, streets, houses, etc...changing the color of the sky and other spaces." Piubeniart joined Society6 on July 15, 2015
More
Davide Piubeni was born in Sarezzo, near the city of Brescia in Northern Italy. He graduated from the Accademia delle Belle Arti di Bera, Milan, in 1994. His artistic career had its beginnings in Brazil, where he produced very large biblical scenes for the church of Viseu, later for the cathedral of Braganca and San Vicent of Paul, in Belem du Para.
On his return to Italy in 1995, he had two solo shows, in Brescia and Milan, depicting biblical scenes from the Old Testament. As the result of very favorable reviews, several dioceses in major Italian cities commissioned him to create new works for their walls. He has since traveled to Spain, Miami, Australia, Guatemala and to Peru having great success portraying local landscapes and showing and commissioning works.
He has painted California from Mendocino to San Diego and has made his home in Southern California. Davide says "It's beautiful to catch with some fantasy the colors and the shadows early in the morning or at sunset, because at these particular times the contrast of the colors become strong and the shadows long. Then I transform the landscape with the feeling I want to incorporate in my artwork, for example painting big or tiny trees, plants, streets, houses, etc...changing the color of the sky and other spaces."
Piubeniart joined Society6 on July 15, 2015.
Piubeniart's Store
56 results
Filter