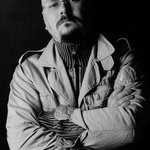 PixelPower
Hello. My name is Sergey Vozika. I'm a designer and I design. I love everything square and I'm too lazy to draw something complex so I use small squares to make bigger squares. My wife is a very talented crochet designer, she crochets cute funny toys, here they are: www.flickr.com/photos/58586961@N04/ She sells crochet patterns at Ravelry: http://www.ravelry.com/designers/anna-vozika PixelPower joined Society6 on July 2, 2012
More
Hello. My name is Sergey Vozika. I'm a designer and I design. I love everything square and I'm too lazy to draw something complex so I use small squares to make bigger squares.
My wife is a very talented crochet designer, she crochets cute funny toys, here they are: www.flickr.com/photos/58586961@N04/ She sells crochet patterns at Ravelry: http://www.ravelry.com/designers/anna-vozika
PixelPower joined Society6 on July 2, 2012.
Throw Blankets by PixelPower
55 results
Filter
Department

Dept

Pillows & Bedding