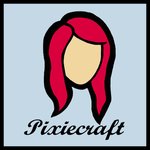 Pixiecraft
Pixiecraft is a small business specialising in handmade homewares, accessories and gifts which are lovingly hand embroidered from our original designs and original illustrated prints. We have recently expanded into the digital world providing printed versions of some of our designs to ensure there is something to suit every pocket!
My name is Katy I am a wife, graduate, chronic stitcher and mama to two beautiful babies (although the second one is a cat!). I started Pixiecraft in 2012 following the success of my craft blog, since opening we have gone from strength to strength thanks to our fabulous, loyal customers. In 2013 Mr Pixie also known as Peter became a partner in Pixiecraft, he is a gifted stitcher and will be working alongside me to help bring you a whole new range of designs.
I am a self-confessed crazy cat lady, yes I am the strange person you see sat in their garden, surrounded by cats talking to them. I only have the one furball (for now) but she was the inspiration behind my most popular design to date "monocle kitty", a rather dashing tuxedo cat who is always well dressed.
All our items are made with the utmost love and attention and we try to source beautiful high quality materials to ensure we can bring you the very best in handmade crafts. If you do not see something which you want please feel free to contact us and we will do our best to find you exactly what you are looking for.
Etsy: www.etsy.com/uk/shop/PixiecraftEmbroidery
Read more
Pixiecraft's Store
24 results
Filter