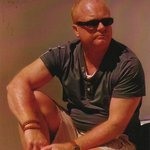 pixsellpix
About Graham Hawcroft pixsellpix Working as a commercial artist in the advertising industry gives you plenty of creative energy to produce inspiring images consistently. I have taken to landscape photography lately, both film (Hasselblad) and digital (Nikon) and enjoy experimenting with abstracts, presenting the expected in an unexpected way. One particlar aspect of abstracts is the technique of moving the camera during a long exposure in a controlled, precise manner, creating very unique images impossible to duplicate. https://www.facebook.com/Pixsellpix?ref=hl https://twitter.com/pixsellpix https://www.linkedin.com/profile/view?id=210650339&trk=nav_responsive_tab_profile pixsellpix joined Society6 on August 10, 2014
More
About Graham Hawcroft pixsellpix
Working as a commercial artist in the advertising industry gives you plenty of creative energy to produce inspiring images consistently. I have taken to landscape photography lately, both film (Hasselblad) and digital (Nikon) and enjoy experimenting with abstracts, presenting the expected in an unexpected way. One particlar aspect of abstracts is the technique of moving the camera during a long exposure in a controlled, precise manner, creating very unique images impossible to duplicate.
https://www.facebook.com/Pixsellpix?ref=hl
https://twitter.com/pixsellpix
https://www.linkedin.com/profile/view?id=210650339&trk=nav_responsive_tab_profile
pixsellpix joined Society6 on August 10, 2014.