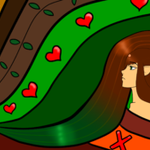 Leafy Can't Play Games
I started out making products for the viewers of the YouTube channel LeafyCantPlayGames, but I also branch out into products that are not related to the channel. I've been doing video production for nearly six years, and drawing seriously for three years. If you have any questions or concerns, do not hesitate to send a message. Leafy Can't Play Games joined Society6 on June 8, 2015
More
I started out making products for the viewers of the YouTube channel LeafyCantPlayGames, but I also branch out into products that are not related to the channel. I've been doing video production for nearly six years, and drawing seriously for three years.
If you have any questions or concerns, do not hesitate to send a message.
Leafy Can't Play Games joined Society6 on June 8, 2015.
Leafy Can't Play Games's Store
37 results
Filter