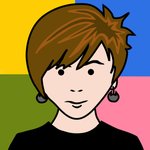 plasticdoughnut
Well~ not really sure what to put in here. I'm an amateur designer who has too much free time in her hands. I like fooling around in photoshop and freehand just as much as on paper, it doesn't really matter to me. I like art, books, music, tv series, films, gigs and theatre. I'm just a regular twenty year-old with lots of expensive hobbies but no job to pay for them. http://twitter.com/plasticdoughnut http://www.redbubble.com/people/plasticdoughnut http://plasticdoughnut.spreadshirt.com/ plasticdoughnut joined Society6 on October 11, 2013
More
Well~ not really sure what to put in here. I'm an amateur designer who has too much free time in her hands. I like fooling around in photoshop and freehand just as much as on paper, it doesn't really matter to me.
I like art, books, music, tv series, films, gigs and theatre. I'm just a regular twenty year-old with lots of expensive hobbies but no job to pay for them.
http://twitter.com/plasticdoughnut http://www.redbubble.com/people/plasticdoughnut http://plasticdoughnut.spreadshirt.com/
plasticdoughnut joined Society6 on October 11, 2013.