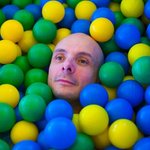 Playwell
Hi, my name is Dave, and I love Lego, toys and photography. I am married with three lovely children, a cat and a bonkers cocker spaniel who feature in my 365 works on a regular basis By day, I am a podiatrist (foot and leg specialist) and work both for the NHS and privately. When not looking at feet and legs I am a crap amateur cyclist and a keen photographer. Lego has taken over my time more and more lately, and my collection of minifigures is growing rapidly. I may need an extra room soon. Along with the Lego, is my growing love of photography. Here you will find shots from my 365 and other projects, which I am very proud of. I'd love to have your comments about all of my work, and I would be extremely flattered if you wanted to buy one to wear, display or send to a friend. I can be found on Facebook, Twitter and on Flickr. Feel free to have a look around, make a comment and ask me a question. Dave :-) Playwell joined Society6 on February 25, 2014
More
Hi, my name is Dave, and I love Lego, toys and photography. I am married with three lovely children, a cat and a bonkers cocker spaniel who feature in my 365 works on a regular basis
By day, I am a podiatrist (foot and leg specialist) and work both for the NHS and privately. When not looking at feet and legs I am a crap amateur cyclist and a keen photographer.
Lego has taken over my time more and more lately, and my collection of minifigures is growing rapidly. I may need an extra room soon.
Along with the Lego, is my growing love of photography. Here you will find shots from my 365 and other projects, which I am very proud of.
I'd love to have your comments about all of my work, and I would be extremely flattered if you wanted to buy one to wear, display or send to a friend.
I can be found on Facebook, Twitter and on Flickr.
Feel free to have a look around, make a comment and ask me a question.
Dave :-)
Playwell joined Society6 on February 25, 2014.