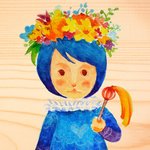 PODO ART
Podo, a creative graphic designer and idealist. She is always on the trip to somewhere, has been to many countries and beautiful places around the world. The illustrator collections presenting in this space, are the memory from the places where she has been visited and the captured of some touching moments in her emotional heart. FB info https://www.facebook.com/podowork behance : https://www.behance.net/popop PODO ART joined Society6 on October 13, 2014
More
Podo, a creative graphic designer and idealist. She is always on the trip to somewhere, has been to many countries and beautiful places around the world.
The illustrator collections presenting in this space, are the memory from the places where she has been visited and the captured of some touching moments in her emotional heart.
FB info https://www.facebook.com/podowork
behance : https://www.behance.net/popop
PODO ART joined Society6 on October 13, 2014.
PODO ART's Store
12 results
Filter