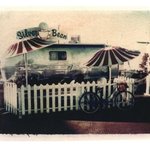 Polaroid FUNK
I do photography for fun, and of course, huge profits.
My current passion is an alternative photographic process called Polaroid transfers. Each transfer is hand-made by the photographer using specific materials and equipment to achieve a desired effect. A transparency is projected on to professional Polaroid print film and as development begins, the print and chemicals are prematurely separated. The image is transferred on to dampened watercolor paper for a unique image which has a dated, artistic photo-painting appearance. Exposure, pressure, time, paper and other variables make each print an original mono-print.
My most recent series of Polaroid transfers is titled , "X-RAY TERRESTRIALS". Double exposed slides of skulls from animals , coupled with illustrations of dental training transparencies culled from a recent St. Louis dumpster dive, yield macabre transmogrification from bone to alien. At. First glance, these small Polaroid transfers seem to portray a menagerie of grotesque creatures, which evoke responses of discomfort and disgust. By depicting the deformed and macabre, Linders illuminates the darkest corners of the mind and reveals her fascination with death, bones, skulls and teeth.
Read more
Polaroid FUNK's Store
Filter
cc7b9cae-cbcc-453f-bab2-64459ce23463

Popular

9a4b9f46-afff-4919-b867-c5dbc6ecb1ad

All