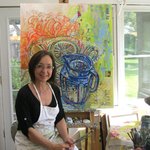 Polly Jones
I'm inspired by my daily life, all of those small moments that need to be noticed. I paint from still life set ups. It's a way to play with color, pattern, light and texture. Collage is a way of expanding the image. Found text and bits from maps or vintage childrens books are woven into the paint like all of the influences and thoughts that work their way into the act of looking. http://pollyjonesart.com/ http://pollyjones.blogspot.com/ http://instagram.com/pollyjonesart https://www.facebook.com/pages/PollyPainting/81660201963 https://www.etsy.com/shop/PollyPainting?ref=hdr_shop_menu Polly Jones joined Society6 on November 10, 2014
More
I'm inspired by my daily life, all of those small moments that need to be noticed. I paint from still life set ups. It's a way to play with color, pattern, light and texture.
Collage is a way of expanding the image. Found text and bits from maps or vintage childrens books are woven into the paint like all of the influences and thoughts that work their way into the act of looking.
http://pollyjonesart.com/ http://pollyjones.blogspot.com/ http://instagram.com/pollyjonesart https://www.facebook.com/pages/PollyPainting/81660201963 https://www.etsy.com/shop/PollyPainting?ref=hdr_shop_menu
Polly Jones joined Society6 on November 10, 2014.
Polly Jones's Store
91 results
Filter