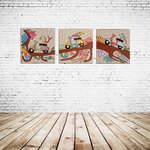 Pompaleh studio/Artist Etti Neriah
Studio Pompaleh born out of a shared idea of the sisters Ronnie and Etti who understood the need for the market to add joy transmitters craft items at reasonable prices. From this challenge, we create unique items, colorful, heart-thumping, which find their way easily to any corner of the house including the children rooms. The purpose of the studio is to create a variety of items, in house design and various corners in decorative and / or useful, and will make the living environment more pleasant place. The products are based on a drawing by hand translated to different techniques, depending on the product you want. Pompaleh studio/Artist Etti Neriah joined Society6 on November 12, 2013
More
Studio Pompaleh born out of a shared idea of the sisters Ronnie and Etti who understood the need for the market to add joy transmitters craft items at reasonable prices. From this challenge, we create unique items, colorful, heart-thumping, which find their way easily to any corner of the house including the children rooms. The purpose of the studio is to create a variety of items, in house design and various corners in decorative and / or useful, and will make the living environment more pleasant place.
The products are based on a drawing by hand translated to different techniques, depending on the product you want.
Pompaleh studio/Artist Etti Neriah joined Society6 on November 12, 2013.
Pompaleh studio/Artist Etti Neriah's Store
9 results
Filter