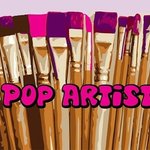 Pop Artist
Pop Artist is a service which specialises in creating personalised hand painted pop art style canvases, perfect for gifts or just to hang up on your wall! If you would like a painting of you and your friends, your favourite celebrity/iconic movie scene (or basically anything!), simply send me an email at jen@pop-artist.co.uk with an attachment of your photo and your size and colour specifications and I will get back to you as soon as possible. For more information, visit my website at www.pop-artist.co.uk. Like on Facebook: https://www.facebook.com/pages/Pop-Artist/474426569287502 Follow on Twitter: @Pop_Artist Pop Artist joined Society6 on June 8, 2013
More
Pop Artist is a service which specialises in creating personalised hand painted pop art style canvases, perfect for gifts or just to hang up on your wall! If you would like a painting of you and your friends, your favourite celebrity/iconic movie scene (or basically anything!), simply send me an email at jen@pop-artist.co.uk with an attachment of your photo and your size and colour specifications and I will get back to you as soon as possible. For more information, visit my website at www.pop-artist.co.uk.
Like on Facebook: https://www.facebook.com/pages/Pop-Artist/474426569287502 Follow on Twitter: @Pop_Artist
Pop Artist joined Society6 on June 8, 2013.
Pop Artist's Store
81 results
Filter