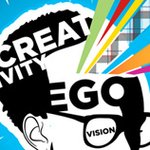 Pope Phoenix
Who is Popephoenix? Popephoenix is the moniker of William Pope. After learning my name is synonymous with art & design and many other illustrators have the same name. I came to the decision; in order to stand out in a crowd of artistic men named William Pope I had to assume a pen name. Popephoenix was born… or resurrected. Which ever is cooler in your head.
Where did you go to school? Popephoenix is a graduate of the University of Barnes & Noble, where I taught myself illustration, web design and graphic design. Graduating Valedictorian of my class, I have worked hard to prove my talent to employers who only respect a diploma.
What is the benefit of being Self-taught? I have always felt my education was a hindrance but in reality it's my greatest asset. It has allowed me to find new avenues to achieve outstanding results with every project I've worked on, while other designers/artists rely only one what they were taught.
Where has Popephoenix worked? The determination to be an artist has allowed me to work within many fields: magazines, fashion, non-profit, animation, as well as web design. My latest endeavor in fashion has placed my designs on the shelves of Old Navy, Target, Walmart as well as other retailers across the country.
Read more
Pope Phoenix's Store
Filter