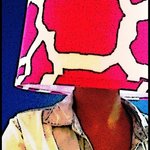 poplampshades
POP Lampshades is the work of Jackie Noreña, a third generation lampshade expert from Mexico City. She learned the trade from her mother fabricating lampshades for interior designers in Beverly Hills. As Noreña's premier solo project, POP Lampshades is inspired by technicolor, POP Art, and High Fashion. POP Lampshades takes the lamp beyond the stand by bringing focus to the shade by using striking textiles, and unique motifs merged with custom artistry. Each POP lampshade is a statement piece of it's own, created to make any corner pop. poplampshades joined Society6 on August 16, 2013
More
POP Lampshades is the work of Jackie Noreña, a third generation lampshade expert from Mexico City. She learned the trade from her mother fabricating lampshades for interior designers in Beverly Hills.
As Noreña's premier solo project, POP Lampshades is inspired by technicolor, POP Art, and High Fashion. POP Lampshades takes the lamp beyond the stand by bringing focus to the shade by using striking textiles, and unique motifs merged with custom artistry. Each POP lampshade is a statement piece of it's own, created to make any corner pop.
poplampshades joined Society6 on August 16, 2013.