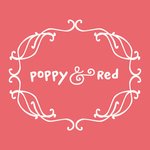 Poppy & Red
Poppy & Red are two friends Anna Deegan and Paula McGloin, who joined together in 2011 to develop a collection of illustrations for stationary and accessories. Since then they have continued to work together, fusing their imaginations to invent more fun and inspired creations. The illustrative duo, Anna from Dublin and Paula from Sligo, possess an optimistic style that is retro-inspired, whimsical and playful. They love working with patterns and rich colour palettes. Nature, the animal kingdom and everyday life inspires their artwork. They like to approach each new project with a fresh outlook and plenty of positivity! They are also members of the Irish Guild of Illustrators which is host to 55 of Ireland's leading illustrators. http://poppyandred.com/ http://www.illustratorsireland.com/index.php/portfolios/gallery/PoppyandRed https://www.facebook.com/poppyandred Poppy & Red joined Society6 on November 14, 2011
More
Poppy & Red are two friends Anna Deegan and Paula McGloin, who joined together in 2011 to develop a collection of illustrations for stationary and accessories. Since then they have continued to work together, fusing their imaginations to invent more fun and inspired creations. The illustrative duo, Anna from Dublin and Paula from Sligo, possess an optimistic style that is retro-inspired, whimsical and playful. They love working with patterns and rich colour palettes. Nature, the animal kingdom and everyday life inspires their artwork. They like to approach each new project with a fresh outlook and plenty of positivity!
They are also members of the Irish Guild of Illustrators which is host to 55 of Ireland's leading illustrators.
http://poppyandred.com/ http://www.illustratorsireland.com/index.php/portfolios/gallery/PoppyandRed https://www.facebook.com/poppyandred
Poppy & Red joined Society6 on November 14, 2011.