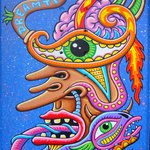 Chris Dyer
Welcome to the Visionary expressions of Chris Dyer! Here you can explore his many energy manifestations on different kinds of canvases he adds extra life to. His intentions are to uplift you and help with the awakening of human consciousness. Personal Information Chris Dyer is a Peruvian artist living in Montreal, Canada who is better known for his Visionary art on broken Skateboards. Chris is responsible for a big part of the art done for Creation Skateboards and Satori Movement Wheels from San Francisco, California, yet his happy images can be found on skateboards all over the world. His art now transcends just skateboards as theres so many things in our world that could use some extra color. He hopes to pass on a positive message to the youth with these expressions. Chris has traveled all over the world in search for his own answers and shows his art when possible. He's had gallery exhibitions in places like Mexico, Belgium, Peru, France and all over the States and Canada. He has also been featured in tons of magazines n books. A big coffee table book and documentary just got released, so go n check em out. Chris Dyer joined Society6 on March 29, 2010
More
Welcome to the Visionary expressions of Chris Dyer! Here you can explore his many energy manifestations on different kinds of canvases he adds extra life to. His intentions are to uplift you and help with the awakening of human consciousness. Personal Information Chris Dyer is a Peruvian artist living in Montreal, Canada who is better known for his Visionary art on broken Skateboards. Chris is responsible for a big part of the art done for Creation Skateboards and Satori Movement Wheels from San Francisco, California, yet his happy images can be found on skateboards all over the world. His art now transcends just skateboards as theres so many things in our world that could use some extra color. He hopes to pass on a positive message to the youth with these expressions.
Chris has traveled all over the world in search for his own answers and shows his art when possible. He's had gallery exhibitions in places like Mexico, Belgium, Peru, France and all over the States and Canada. He has also been featured in tons of magazines n books. A big coffee table book and documentary just got released, so go n check em out.
Chris Dyer joined Society6 on March 29, 2010.
Chris Dyer's Store
14 results
Filter