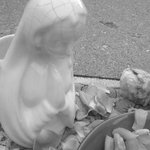 Precious & Peculiar
Lover of light, moons, stars, selkies and the sea. Aquarius sun. Gemini moon. Collector of magical bits. Caretaker of wonder. Quiet activist. Hears prayers and answers as often as I can. Dreamer, reader, shy. I love working with upcycled paper, watercolors, textiles and words. I do not make copies of the upcycled magazines, books and maps I use. I rescue them from the recycling bins and even dumpsters in my area. Collage artists must recognize that sometimes what they view as a transformative piece of an original work .... isn't to the maker. I do. Call me out if you see anything that concerns you...you can reach me here littleorangelaura@comcast.net. My watercolors are my new favorite medium. Pictures of my Altar Vignettes are the next favorite thing on my list. I support The Innocence Project, Black Lives Matter and the ACLU. Precious & Peculiar joined Society6 on December 9, 2016
More
Lover of light, moons, stars, selkies and the sea. Aquarius sun. Gemini moon. Collector of magical bits. Caretaker of wonder. Quiet activist. Hears prayers and answers as often as I can.
Dreamer, reader, shy.
I love working with upcycled paper, watercolors, textiles and words. I do not make copies of the upcycled magazines, books and maps I use. I rescue them from the recycling bins and even dumpsters in my area.
Collage artists must recognize that sometimes what they view as a transformative piece of an original work .... isn't to the maker. I do. Call me out if you see anything that concerns you...you can reach me here littleorangelaura@comcast.net.
My watercolors are my new favorite medium.
Pictures of my Altar Vignettes are the next favorite thing on my list.
I support The Innocence Project, Black Lives Matter and the ACLU.
Precious & Peculiar joined Society6 on December 9, 2016.