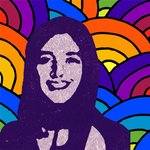 Carrie at Dendryad Art
All the artwork displayed here has been created from my own illustrations and lino cuts. I work mainly with Celtic knots, mandalas, kaleidoscopes and hippy and trippy themes. Freelance graphic designer, illustrator and relief printmaker. Lapsed linguist, fountain pen user, music lover, geek. Hopes to live in a VW bus one day. Come and say hello over at twitter.com/dendryad or www.dendryad.co.uk :) Carrie Carrie at Dendryad Art joined Society6 on April 16, 2014
More
All the artwork displayed here has been created from my own illustrations and lino cuts. I work mainly with Celtic knots, mandalas, kaleidoscopes and hippy and trippy themes.
Freelance graphic designer, illustrator and relief printmaker. Lapsed linguist, fountain pen user, music lover, geek. Hopes to live in a VW bus one day.
Come and say hello over at twitter.com/dendryad or www.dendryad.co.uk :)
Carrie
Carrie at Dendryad Art joined Society6 on April 16, 2014.