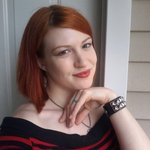 Primordial Soup of the Day
My name is Emily. I live in Connecticut and draw trippy stuff with colored pencils. I also write: http://www.blurb.com/b/6281389-between-the-lines http://femmergent.blogspot.com I have a comic published here: http://tapastic.com/episode/251539 If you want to buy an original, you're welcome to message me at emilykirchner85@gmail.com. Primordial Soup of the Day joined Society6 on February 5, 2016
More
My name is Emily. I live in Connecticut and draw trippy stuff with colored pencils.
I also write: http://www.blurb.com/b/6281389-between-the-lines http://femmergent.blogspot.com
I have a comic published here: http://tapastic.com/episode/251539
If you want to buy an original, you're welcome to message me at emilykirchner85@gmail.com.
Primordial Soup of the Day joined Society6 on February 5, 2016.
Primordial Soup of the Day's Store
216 results
Filter