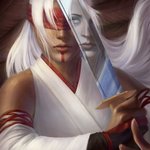 Priscilla Kim
Priscilla grew up reading fantasy books, playing roleplaying games, and generally refusing to get any sun, to which early exposure she pins her fixation on warrior women. She initially fell into the video game industry as an associate producer, but after several years started to miss creating things and shifted disciplines into illustration and concept art. Since then, she's worked on games with White Wolf (and later Onyx Path), Fantasy Flight, Lone Shark, Hi-Rez, and many other companies, as well as on the Emmy-winning animated TV show Archer, and has had work in ImagineFX and the Society of Illustrators West. She likes focusing on book covers and portraits. Currently, she's based in Austin, Texas, enjoying the hot sun, fine cocktails and friendly folks. Priscilla Kim joined Society6 on December 5, 2015
More
Priscilla grew up reading fantasy books, playing roleplaying games, and generally refusing to get any sun, to which early exposure she pins her fixation on warrior women. She initially fell into the video game industry as an associate producer, but after several years started to miss creating things and shifted disciplines into illustration and concept art.
Since then, she's worked on games with White Wolf (and later Onyx Path), Fantasy Flight, Lone Shark, Hi-Rez, and many other companies, as well as on the Emmy-winning animated TV show Archer, and has had work in ImagineFX and the Society of Illustrators West. She likes focusing on book covers and portraits. Currently, she's based in Austin, Texas, enjoying the hot sun, fine cocktails and friendly folks.
Priscilla Kim joined Society6 on December 5, 2015.