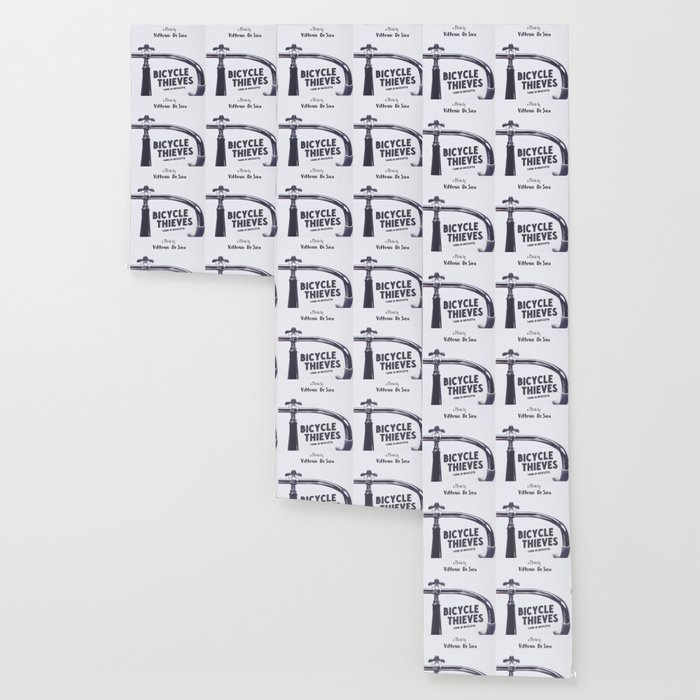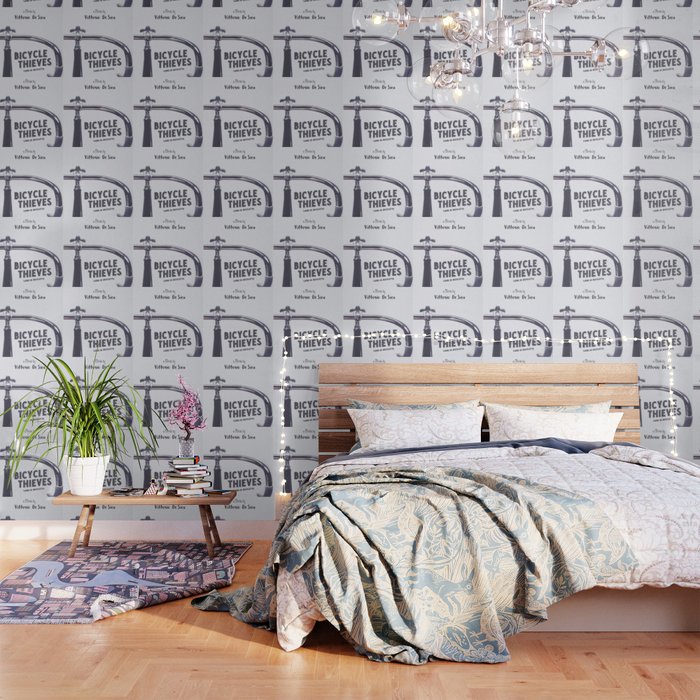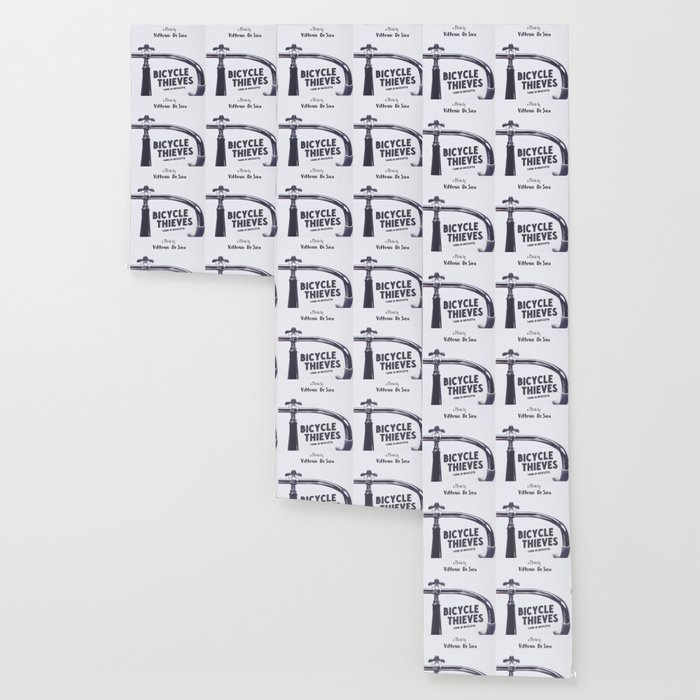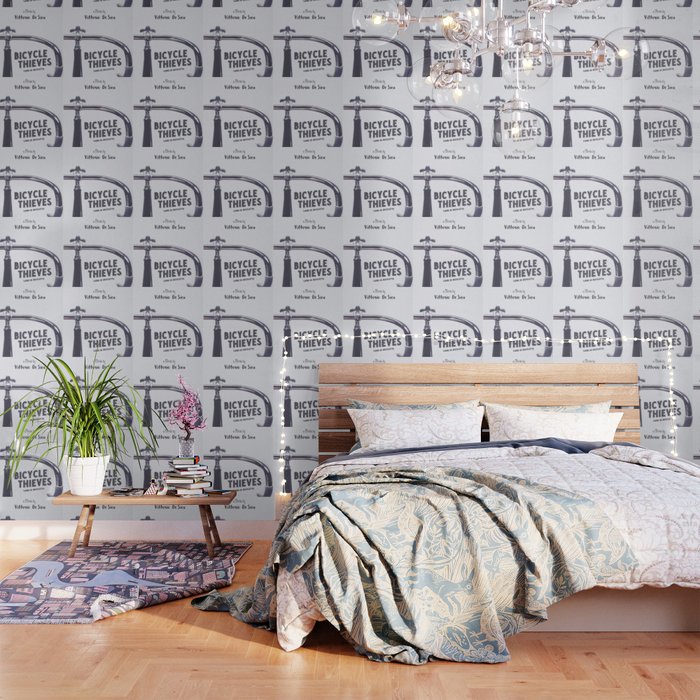 Bicycle Thieves - Movie Poster for De Sica's masterpiece. Neorealism film, fine art print. Wallpaper
Quantity
IMPORTANT: make sure to order enough panels to cover your wall or surface (size options below). Our peel and stick Wallpaper is easy to apply and take off, leaving no adhesive residue. Featuring sharp, vibrant images, Wallpaper patterns are ideal for accent walls, flat surfaces and temporary installations (like parties!). Available in three floor-to-ceiling sizes.
Panel size options in feet: 2' (W) x 4' (H), 2' x 8', 2' x 10'
Printed on self-adhesive woven polyester fabric panels, easy to stick on and off
Repeating patterns on each panel
Matte finish and texture
Features vibrant, water-based, non-toxic inks
Tips for Installing Your Wallpaper
Here's what you'll need beforehand (not included with your purchase): tape measure, smoothing tool, razor or utility blade, stepladder and a partner.
Read the instructions. We include a detailed, step-by-step guide in your packaging tube. Make sure to follow the instructions so your pattern looks perfect - with minimal air pockets and seamless alignment.
Watch the video: we've made a handy visual guide for you too - just in case you lose your instructions or want to see exactly how each step works.
View detailed instructions
Shop this artwork
About this artwork
Bicycle Thieves (Italian: Ladri di biciclette; originally titled The Bicycle Thief in the United States) is a 1948 Italian film directed by Vittorio De Sica. The film follows the story of a poor father searching post-World War II Rome for his stolen bicycle, without which he will lose the job which was to be the salvation of his young family.
Adapted for the screen by Cesare Zavattini from a novel by Luigi Bartolini, and starring Lamberto Maggiorani as the desperate father and Enzo Staiola as his plucky young son, Bicycle Thieves is widely regarded as a masterpiece of Italian neorealism. It received an Academy Honorary Award in 1950 and, just four years after its release, was deemed the greatest film of all time by Sight & Sound magazine's poll of filmmakers and critics; fifty years later the same poll ranked it sixth among greatest-ever films. It is also one of the top ten among the British Film Institute's list of films you should see by the age of 14.
Vittorio De Sica, Cesare Zavattini, Suso Cecchi d'Amico, Gerardo Guerrieri, Oreste Biancoli, Adolfo Franci, Luigi Bartolini, movie, cinema, poster, movie, film, poster, locandina, affiche, playbill, cartel, anunciante, annonceur, Plakat, plakat, affish, affishen, plakát, плакат, ポスター, 海报, אַפיש, art, print, إعلان حفلة, masterpiece, minimal, minimalist, alternative, society6, illustration, typography, graphic design, fiction, kubrick, TV, Lamberto Maggiorani Enzo Staiola, Lianella Carell, Vittorio Antonucci, Alessandro Cicognini, neorealism, neorealismo, Eraldo Da Roma, Ente Nazionale Industrie Cinematografiche, EIC, Umbrella Entertainment, Joseph Burstyn & Arthur Mayer (US)
In the post-World War II Val Melaina neighbourhood of Rome, Antonio Ricci (Lamberto Maggiorani) is desperate for work to support his wife Maria (Lianella Carell), his son Bruno (Enzo Staiola), and his small baby. He is offered a position posting advertising bills, but tells Maria that he cannot accept because the job requires a bicycle. Maria resolutely strips the bed of her dowry bedsheets—​​prized possessions for a poor family—​​and takes them to the pawn shop, where they bring enough to redeem Antonio's pawned Fides brand bicycle. (A memorable shot shows the sheets being added to a mountain of bedding pawned by other families.) They cycle home—​​Maria on the crossbar—​​rejoicing in their good fortune. Along the way, Maria insists that she has to visit someone. Antonio discovers that it is a seer who had prophesied that Antonio would find work and that Maria owes her money. Antonio is derisive of Maria's faith in the seer, and teases her about spending money on such foolishness.
On his first day of work Antonio is atop a ladder when a young man (Vittorio Antonucci) snatches the bicycle. Antonio gives chase but is thrown off the trail by the thief's confederates. The police take a report but warn that there is little they can do. Advised that stolen goods often surface at the Piazza Vittorio market, Antonio goes there with several friends and his small son Bruno. Finding a bike that might be Antonio's they summon an officer, but the serial numbers do not match.
At the Porta Portese market Antonio and Bruno spot the thief with an old man. They pursue the thief but he eludes them. They then accost the old man demanding disclosure of the thief's identity, but the old man feigns ignorance. They follow him into a church where, after disrupting the service, he slips away from them. Bruno, after this latest defeat, appears dismayed before his father who upon seeing this slaps his son, greatly upsetting the boy. Antonio has Bruno wait by a bridge while Antonio searches for the old man. Suddenly there are cries that a boy is drowning. Rushing toward the commotion Antonio is relieved to see that the drowning boy is not Bruno. Antonio treats Bruno to lunch in a restaurant, where they momentarily forget their troubles, but on seeing a rich family enjoying a fine meal, Antonio is again seized by his calamity and tortures himself by reckoning his lost earnings.
Desperate, Antonio consults the seer, who tells him, "You'll find the bike today, or not at all." Leaving the seer's house they encounter the thief; Antonio pursues him into what turns out to be a brothel, the denizens of which quickly eject them. In the street hostile neighbors gather as Antonio accuses the thief, who conveniently falls into a fit for which the crowd blames Antonio. During this commotion Bruno fetches a policeman, who searches the thief's apartment without result. The policeman tells Antonio the case is weak—​​Antonio has no witnesses and the neighbors are certain to provide the thief with an alibi. Antonio and Bruno walk off in despair amid jeers and threats from the crowd.
On their way home, they near Stadio Nazionale PNF football stadium. Inside a game is underway, while outside, rows of bicycles await their owners. Antonio sees an unattended bicycle near a doorway. He paces distractedly, then sits with Bruno on the curb, his hat in his hands. He looks as a stream of bicycles rush past—​​the world seems full of other people's bicycles. He resumes pacing, anguished and agitated, then gives Bruno some money, telling him to take the streetcar and wait at Monte Sacro.
Antonio circles the unattended bicycle, summons his courage, and jumps on it. The hue and cry is instantly raised, and Bruno, who has missed the streetcar, is stunned to see his father surrounded, pulled from the bike, slapped and insulted—​​his hat knocked off. As Antonio is being muscled toward the police station, the bicycle's owner notices Bruno, who is carrying Antonio's hat; in a moment of compassion he tells the others to release Antonio.
Antonio and Bruno walk off slowly amid a buffeting crowd. Bruno hands his father the hat, crying as Antonio stares dazedly ahead, unreacting even as a truck brushes his shoulder. They look briefly at each other. Antonio fights back tears; Bruno takes his hand. The camera watches from behind as they disappear into the crowd. Visconti, Rossellini.
Bicycle Thieves is the best-known work of Italian neorealism, the movement (begun by Roberto Rossellini's 1945 Rome, Open City) which attempted to give cinema a new degree of realism.[6] De Sica had just made the controversial film Shoeshine and was unable to get financial backing from any major studio for the film, so he raised the money himself from friends. Wanting to portray the poverty and unemployment of post-war Italy,[7] he co-wrote a script with Cesare Zavattini and others using only the title and few plot devices of a little-known novel of the time by poet/artist Luigi Bartolini.[8] Following the precepts of neorealism, De Sica shot only on location (that is, no studio sets) and cast only untrained nonactors. (Lamberto Maggiorani, for example, was a factory worker.) That some actors' roles paralleled their lives off screen added realism to the film.[9] De Sica cast Maggiorani when he had brought his young son to an audition for the film. He later cast the 8-year-old Enzo Staiola when he noticed the young boy watching the film's production on a street while helping his father sell flowers. The film's final shot of Antonio and Bruno walking away from the camera into the distance is an homage to many Charlie Chaplin films, who was De Sica's favourite filmmaker.
More from this artist
Verified member since 1970
Shop all from this artist
About Society6 
Wallpapers
Made to order
Each Society6 product is individually printed and assembled when you order it, so please allow 3-5 days manufacture time for your custom product.
No-hassle returns
We want you to be stoked with your purchase, so if you're not, let us know. We offer a 100% Happiness Guarantee, which means free refunds and exchanges.
Every purchase pays an artist
Society6 artists live all over the world, and every purchase puts money right in their pockets. We've been helping artists do what they love since 2009.