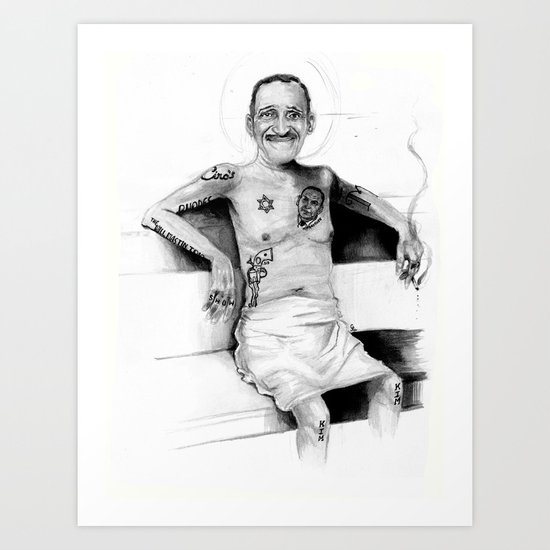 Art Print
DAVIS, JR.
by
Garrett Vander Leun
15% Off + Free Worldwide Shipping on this item today!
DESCRIPTION
Collect your choice of gallery quality Giclée, or fine art prints custom trimmed by hand in a variety of sizes with a white border for framing.
ABOUT THE ART
From my 'Legends in Ink' series, the tattoos break down like this:

1.KIM - Short for "Keep It Moving." Sammy was a world-class hoofer, a man who just loved to dance. It was devastating for him when his body began to break down, and that was part of the reason he always hated his hit song, "Mr. Bojangles." He never wanted to be the character in that song, the broken-down has-been. The very idea that he couldn't dance forever terrified him. During the last few years of his life, there was a televised tribute special for him. All the stars came out to pay their respects for this living legend. At the time, it was widely recognized that Gregory Hines was Sammy's heir to the dancing throne. Hines came out on stage and danced, and then walked down to Sammy in the front row, looking very frail and sickly. There's some sort of exchange and suddenly Sammy's putting on tap shoes to, what appears to be, the great surprise of his wife. Sammy stands up, walks on stage, and in a near death-defying burst of energy, he and Hines begin a sort of dancing duel and Sammy, pro that he is, lays out some nasty moves that literally drop Hines to his knees, kissing at Sammy's feet... Find this moment online if you can. Unbelievable.

2.SHOW - FOLK (hands) - The term vaudeville performers used to describe themselves.

3.Colt Revolver .25 - He was a master of showy, gun-spinning tricks and was said to be able to draw in .25 seconds.

4.THE WILL MASTIN TRIO - Where he got his start, touring clubs and billed as "midget" (to avoid being put in school by child services) with his father Sammy Sr. and "Uncle" Will Mastin. He kept these two men in his corner and on stage well past their prime as an act of loyalty and respect.

5.RHODES - In reference to George Rhodes, his longtime bandleader and close friend. George's wife Shirley also served as Sammy's assistant. Sammy was very close with her and she was one of the only people in his life who could tell him when he was acting like a fool.

6.CIRO'S - The famous club where he got his big break. This was also the place where Sammy made his comeback after losing his eye, the same night he dropped the eyepatch after Sinatra and a bunch of other guys showed up wearing eye patches in support.

7.Star of David - Sammy became interested in Judaism through his friend Eddie Cantor, who came and spoke with him while he was recovering in the hospital from his car accident. Cantor drew similarities between the struggles of the black and Jewish people. Sammy began studying Judaism from that point forward and converted years later.

8.Frank Sinatra, MY BROTHER - The stories of their friendship are legendary, and they openly referred to one another as 'brother' (amongst many other not-so-politically-correct names). Sinatra was a huge champion for not only Sammy, but the entire civil rights movement. He refused to play at clubs that wouldn't let Sammy in through the front door and hotels that wouldn't allow him a room. Sinatra also went to bat for Sammy in the time leading up to his wedding with May Britt, a move that garnered extensive heat from the Kennedy campaign and Asshole Extraordinaire, Joe Kennedy.

9.M - For May (pronounced "My") Britt, his second wife. I believe this was his greatest marriage and his truest love. There's absolutely no way to prove this, but I've read enough books on him to form my own opinion. This marriage drew death threats from blacks and whites alike, the ire of the entire Kennedy family, put his career at risk, and was illegal in 31 states at the time. I don't think anything BUT love can withstand that kind of heat. The marriage lasted nine years, produced three children, and ended in a whirlwind of performances on Broadway that kept him out of the home and into an affair. It's an unfortunate end, and inexcusable, but I feel like they both did the best they could under the cloud of hostility that plagued their marriage constantly, and one need only look at some of the stunning candid photos of the two online to see evidence of their unrivaled devotion.