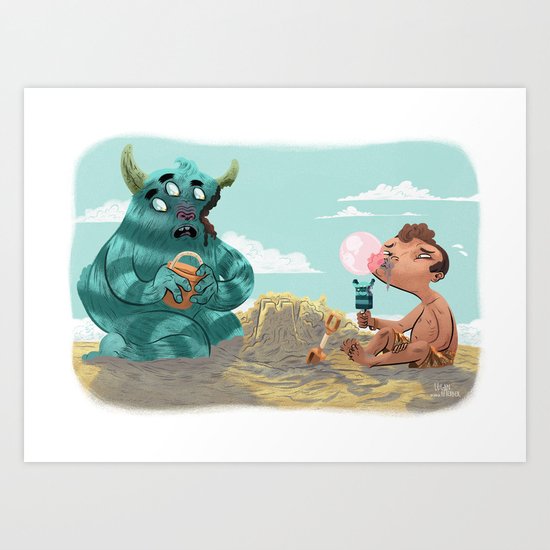 Art Print
Death of the Imagination
by
Logan Faerber
DESCRIPTION
Collect your choice of gallery quality Giclée, or fine art prints custom trimmed by hand in a variety of sizes with a white border for framing.
ABOUT THE ART
This was a piece I recently made for a gallery show that will be hosted at the Orchard Skate Shop in Allston, MA. The theme of the show is "Death of Childhood", and it revolves around the concept of twisting various childhood memories or pop-culture icons into humorous but often disturbing adaptations of innocent themes. And with a theme this broad made narrowing down a concept surprisingly hard - there are just so many wonderful elements from my childhood that I would love the opportunity to get my hands on and to make my own. Initially I thought of attempting Ren & Stimpy, but quickly realized however that it was disturbing enough without my helping hand, so I left it be. Ultimately, I decided to go with a concept that popped into my head later that day; one sparked by cannibalism or just the act of eating other animals. Being vegetarian myself made this easy enough to tackle and seemed to stand on its own as a form of protest.

When growing up, I absolutely loved the popsicles that depicted my favorite cartoon characters, namely Mickey Mouse and the Teenage Mutant Ninja Turtles. But I also remember feeling this sadness when I realized how I was literally eating away at their joyful smiling faces, rendering them down into a useless piece of wood that I would gnaw on for the several hours that followed this murderous act. This led me to believe that I was in some way affecting them personally, like a form of voodoo doll. Does that in turn make the ice cream man the true villain and puppet master? - I knew enough to know that idea was ridiculous (However, our ice cream man did have one eye, and seemed to be the main source of pot distribution in our town, so the concept is back up for debate). Anyways,
this illustration and gallery piece was my interpretation of this idea that seemed to haunt me many years ago. Don't get me wrong, I love the idea behind these popsicles and am so happy they bring joy to children's faces, so please never stop making them. I just seem to have this inability of separating fact from fiction, so instead of seeing trash as being out of the way when thrown out, I see it as being shunned and abandoned to live a miserable existence trapped in a bag of various smelly objects. Toy Story 3 pretty much summed this feeling up for me. Simply put, everything I've owned has a memory attached to it, making it harder and harder to cope with separation, especially one which results in disregarding its physical self to the trash alongside banana peels and tissues.

I apologize; this got very deep, very fast. Simply put, Toy Story 3, I love you, but fuck you for making a grown man cry three times in a theater of children.