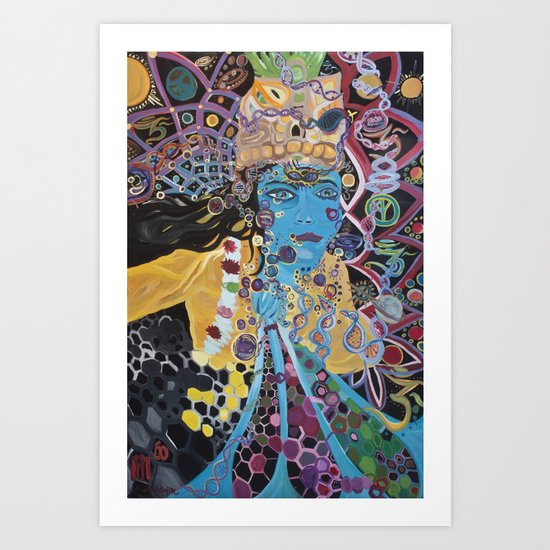 Art Print
"Krishna"
by
Mike Hooper Art
DESCRIPTION
Collect your choice of gallery quality Giclée, or fine art prints custom trimmed by hand in a variety of sizes with a white border for framing.
ABOUT THE ART
*Fine Art Print *

Originally done with acrylic on mat board live and in the studio- 2011-Original has sold



Krishna-The Offering

This painting is of Krishna, often depicted as a youthful prince known for giving guidance and spiritual direction. The stories and ideas of Krishna can be read and contemplated from the Bhagavad-Gita or through other theological and Hindu studies.

The theme of this painting shows an offering of self-reflection and a proposition of shared ideologies with the viewer. The concepts taught and books written and told within the Bhagavad-Gita are consequently, the same ideas, prophecies, and revelations shown within lets say the New Testament, Bible or the Koran. Jesus, Gandhi, and Buddha can be known for providing the same central ideas based on their teachings, thoughts, and practices, demonstrated and lived throughout their lives and their texts.

Let it be known that the idea of a prophet is for the prophet to be proved wrong. The main focus need not lie in just the understanding of the prophet having the ability to see a visionary prophecy but rather to seek the very core and rooted understanding at the heart of these philosophies and ideals. No one wants to see the world trade towers come down as predicted by Alex Grey and Nostradamus nor an apocalypse that so many have contemplated throughout time and history. The urgency exhibits the underlying fact that time seizes and persists all at the same time, acting out to reform our current pattern of thinking and rationalize the surreal within the real and begin to specify. Answering the question, of how to fulfill a universally modest and realistically sustainable society as a whole? The focus remaining on unifying all areas of civilization within a self created value system, belief or non-belief concept, as to create a healthy new era that is beneficial at all angles and calculations.

Krishna begins to mold into shape out of geometric patters from the bottom left corner of the painting, sharing the same environment and simultaneously connecting with the authenticity of its own web of design surrounding him. As Krishna continues to form, he becomes surrounded by beautiful webs, vistas, and windows of multiple religious symbols, the Sun, Earth, Saturn, and Venus. This displays the different religious traditions and other ideas or messages that can be acknowledged and seen as relative ideas by Krishna and you.

Strewn out before Krishna is the offering, an extended plethora of inter-locking multidimensional framework of vibrantly colored fractals and beauty. The third eye opens up structures of DNA filtered through an eye just outside of Krishna. The fragmented bubbles of DNA float off and unwind into Krishna's vision and extend out, creating a circumference holding Krishna's vision and the space he resides. These tiny particles of DNA (thoughts, ideas, and beliefs) have shifted into beaded diamond-like stars placed in a web of universal opening that are encompassing Krishna and accompanying the sun in vibrantly expressing the solid yet elastic figure of Krishna.

The overall theme in this painting is for the viewer to take the ideas, prophecies, and teachings shown to us and to integrate them into our own process of recycling truth, ideas, and showing beauty within and amongst ourselves in a communal equation. If the ideas that have been agreed upon by the many of our elders of ancient civilization and have come to be known as truths, then surely we would be doing beneficial service to not only ourselves and those before us but to the future of a complete logical collective metaphysical exploration internally and externally. By listening and watching patiently for the offering, despite our beliefs or routine thought patterns, one will soon pass even the most trying of trials and tribulations, opening us up to the idea of taking on the same responsibility and providing light to those who choose to see.