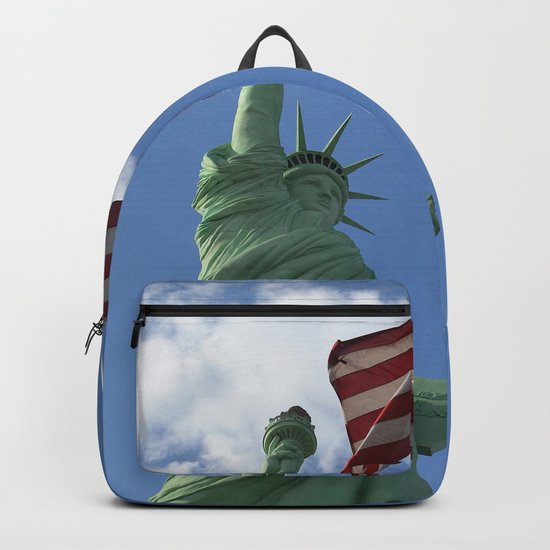 Backpack
Liberty & Justice
by
Alaskan Momma Bear
DESCRIPTION
Our Backpacks are crafted with spun poly fabric for durability and high print quality. Thoughtful details include double zipper enclosures, padded nylon back and bottom, interior laptop pocket (fits up to 15"), adjustable shoulder straps and front pocket for accessories. Dry clean or spot clean only. One unisex size: 17.75"(H) x 12.25"(W) x 5.75"(D).
ABOUT THE ART
" I pledge allegiance . . . with liberty and justice for all."

My picture of a replica of the Statue of Liberty in Las Vegas outside of the New York, New York Casino. The United States of America flag is flying nearby - "Land of the Free, and Home of the Brave".

©Flanders-Krause

Statue of Liberty, Lady Liberty, US flag, patriot, patriotism, stars, stripes, free, freedom, Independence, United States symbolism, old glory, pride-in-country, red, white, blue, 4th of July, USA, New York, New York, Las Vegas Strip, fourth of July,

..
photography digital architecture political
4th-of-july liberty justice independence
flag statue-of-liberty freedom home-of-the-brave
patriot patriotism america usa
color