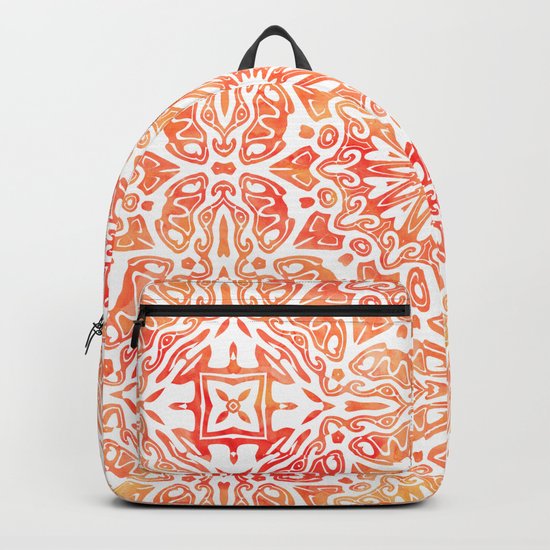 Backpack
Oriental Watercolor ornament pattern yellow orange
by
LebensARTdesign
DESCRIPTION
Our Backpacks are crafted with spun poly fabric for durability and high print quality. Thoughtful details include double zipper enclosures, padded nylon back and bottom, interior laptop pocket (fits up to 15"), adjustable shoulder straps and front pocket for accessories. Dry clean or spot clean only. One unisex size: 17.75"(H) x 12.25"(W) x 5.75"(D).
ABOUT THE ART
watercolor ornamental pattern in bright shades of orange and yellow

orange, traditional, ornament, oriental, ornamental, pattern, delicate, symetrical, art, artwork, allover, seamless, watercolor, abstract, textile, vintage, art, background, retro, graphic, element, tile, ornament, illustration, style, decorative, color, decoration, texture, geometric, shape, bright, ethnic, tiled, patchwork, paint, indian, traditional, summer, repeat, colorful, square, modern, ornaments, fashion, fabric, arab, moroccan, design, boho, tribal, vivid, decor, dots, lace, light, spots, folk, white, drawing, floral, repeating pattern, navajo, mosaic, spring, peru, aquarelle, watercolor painting, bohemian, vibrant, batik, album, artistic, small, aztec, fashion printing, fabric textile, effect, ikat, chic, henna, graphics, indonesian, linear, mehendi, freehand, exotic, fairy, embroidery, elegant, drawn, fantastic, fantasy, fine, mehndi, cute, stylized, colored, colonial, painting, painted, coloring, shabby, colour, yellow, beautiful; portfolio; poster; picture...
painting digital watercolor ink
pattern vintage illustration abstract
graphic-design oriental ornament yellow
orange red traditional fashionable
symetrical