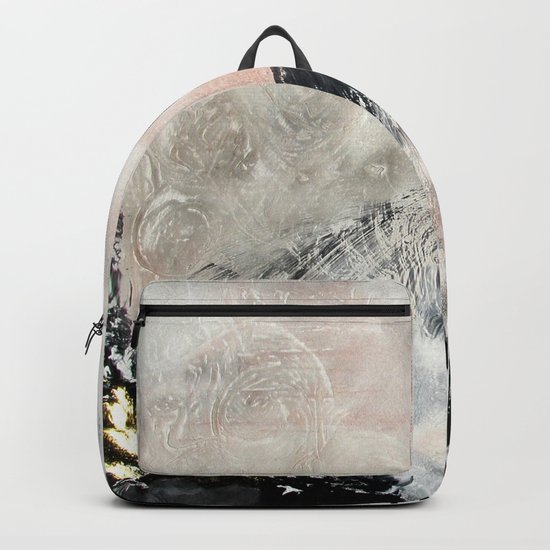 Backpack
Saponification Abstraction
by
Home Deco Abstractions
DESCRIPTION
Our Backpacks are crafted with spun poly fabric for durability and high print quality. Thoughtful details include double zipper enclosures, padded nylon back and bottom, interior laptop pocket (fits up to 15"), adjustable shoulder straps and front pocket for accessories. Dry clean or spot clean only. One unisex size: 17.75"(H) x 12.25"(W) x 5.75"(D).
ABOUT THE ART
I was learning how to make bar soap, and came up with this nature landscape abstract painting in Gold Pink Black Mauve about saponification in a magical mystical mug stirring with a spoon making pink black white purple peach gold drips of soap designs. Saponification is when the part of bar soap making that the mixture gels up and is ready to be poured into moulds.

This imagery dipicts circles that stir and splashes of mess made in the end result of melting gold in which are the heart of it all, as gold bars are actually soap bars. The saponification is ready when the mysterious mug cracks and everything is mixed. The process of soap making is a nature and natural process for centuries.

ashes, spooky...
painting abstract mixed-media landscape
nature oct17cb soap mauve
magic mountain sky wild
beach waves ocean water
cup splash earth black
white