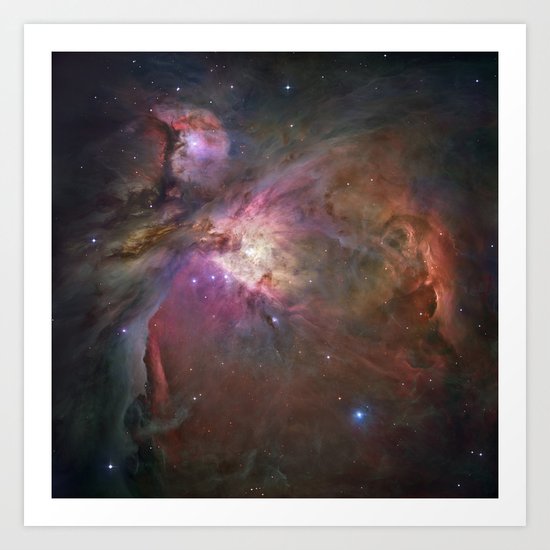 Art Print
The Orion Nebula by Hubble Space Telescope
by
Planet Prints
20% Off Art Prints and Framed Prints +
Free Worldwide Shipping Today!
DESCRIPTION
Collect your choice of gallery quality Giclée, or fine art prints custom trimmed by hand in a variety of sizes with a white border for framing.
ABOUT THE ART
Hubble's sharpest view of the Orion Nebula

The Orion Nebula (also known as Messier 42, M42, or NGC 1976) is a diffuse nebula situated south of Orion's Belt in the constellation of Orion. It is one of the brightest nebulae, and is visible to the naked eye in the night sky. M42 is located at a distance of 1,344 ± 20 light years and is the closest region of massive star formation to Earth. The M42 nebula is estimated to be 24 light years across. It has a mass of about 2000 times the mass of the Sun. Older texts frequently refer to the Orion Nebula as the Great Nebula in Orion or the Great Orion Nebula.

The Orion Nebula is one of the most scrutinized and photographed objects in the night sky, and is among the most intensely studied celestial features. The nebula has revealed much about the process of how stars and planetary systems are formed from collapsing clouds of gas and dust. Astronomers have directly observed protoplanetary disks, brown dwarfs, intense and turbulent motions of the gas, and the photo-ionizing effects of massive nearby stars in the nebula. There are also supersonic "bullets" of gas piercing the hydrogen clouds of the Orion Nebula. Each bullet is ten times the diameter of Pluto's orbit and tipped with iron atoms glowing bright blue. They were probably formed one thousand years ago from an unknown violent event.

The Hubble Space Telescope (HST) is a space telescope that was carried into orbit by a Space Shuttle in 1990 and remains in operation. A 2.4-meter (7.9 ft) aperture telescope in low Earth orbit, Hubble's four main instruments observe in the near ultraviolet, visible, and near infrared. The telescope is named after the astronomer Edwin Hubble.

Hubble's orbit outside the distortion of Earth's atmosphere allows it to take extremely sharp images with almost no background light. Hubble's Deep Fields have been some of the most detailed visible-light images ever, allowing a deep view into space and time. Many Hubble observations have led to breakthroughs in astrophysics, such as accurately determining the rate of expansion of the universe.