TRAIN tracks Purple Blue Clear iPhone Case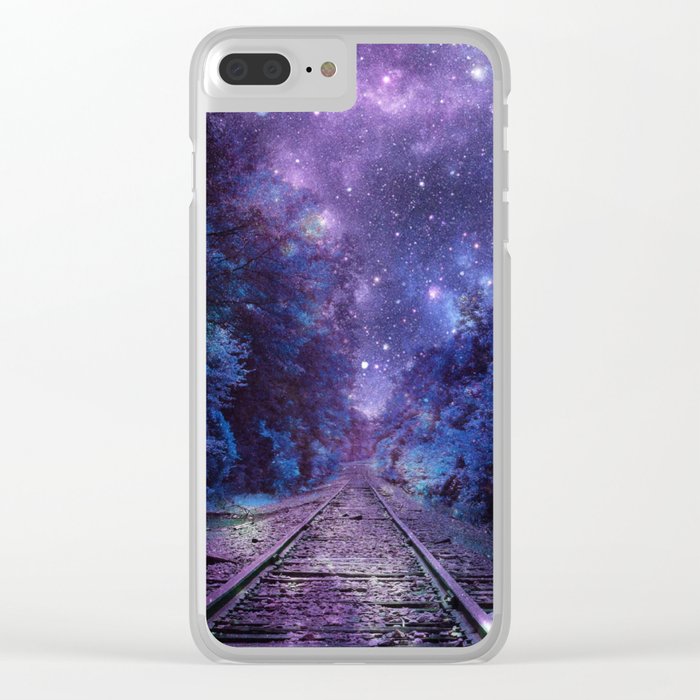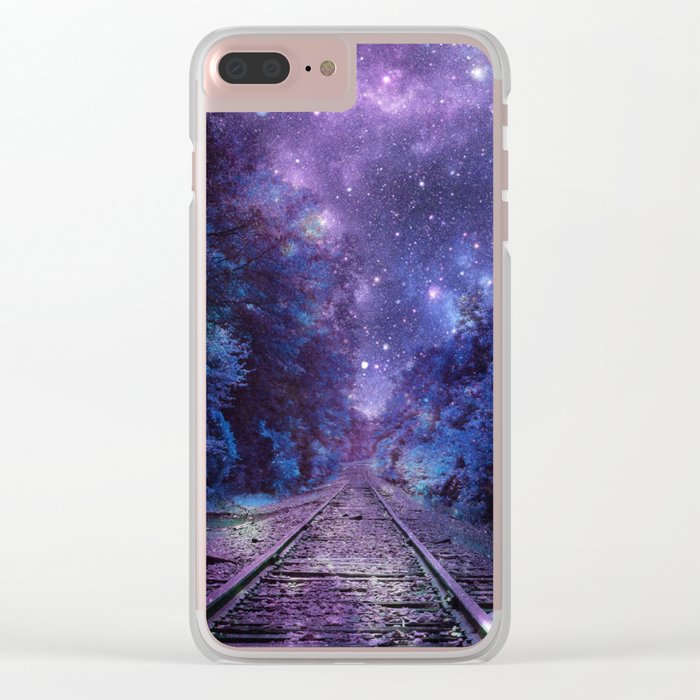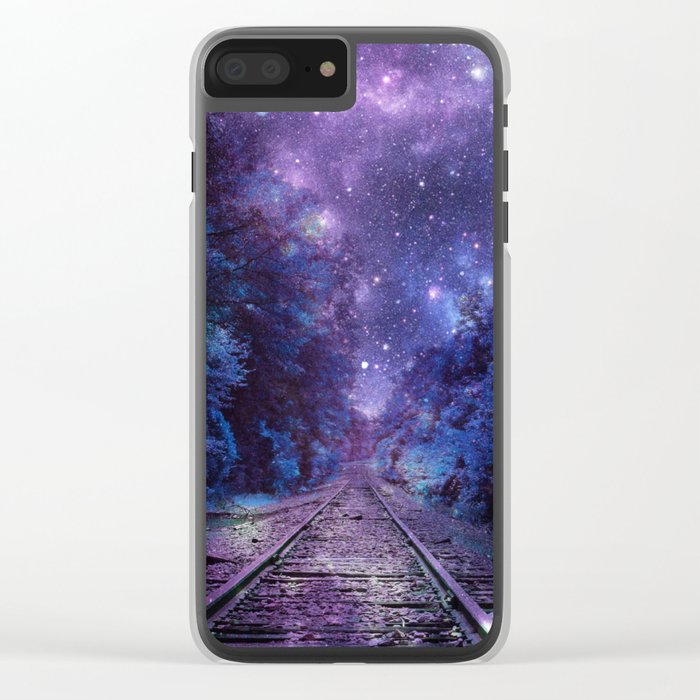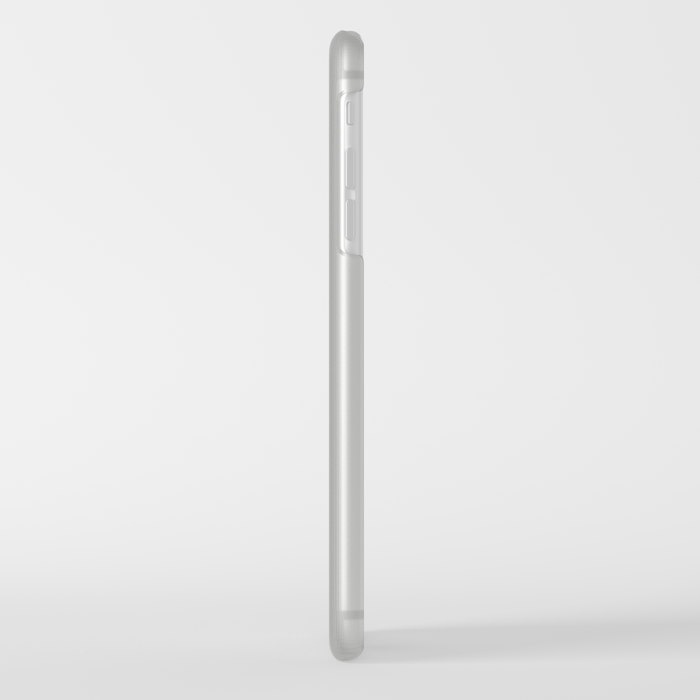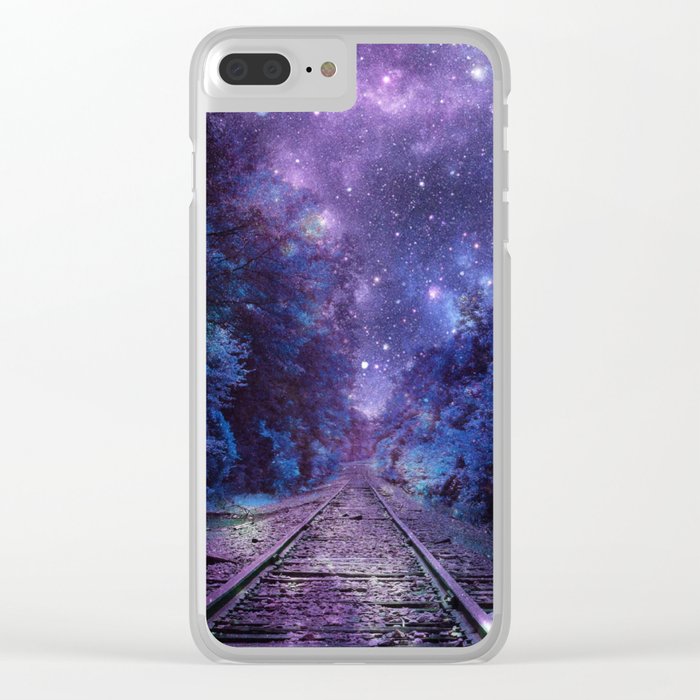 Our super slim Clear iPhone Cases bring a totally different look to your tech. All clear cases feature designs that are heat printed on a transparent, frosted shell. You'll love the embossed texture and high-quality images just as much as you love your phone.
One-piece build: transparent, frosted hard plastic shell
Heat-printed design for an embossed texture
Open button form for direct access to device features
Easy snap on and off
iPhone 8, 8 Plus, and X cases support QI wireless charging (case doesn't need to be removed)
Shop this artwork
About this artwork
Train Tracks : "Next Stop, Anywhere" (purple) copyright 2sweet4wordsDesigns All Rights Reserved Follow on facebook: www.facebook.com/2sweet4wordsDesigns Follow on Tumblr: http://2sweet4wordsgalaxy.tumblr.com/
train, tracks, trees, space, galaxy, stars, train tracks Throw Pillow, train tracks Duvet Cover, train tracks Phone Case, train tracks Rugs, train tracks Shower curtain, train tracks laptop sleeve, train tracks iphone cover, train tracks ipad case, train tracks iPhone skin , train tracks iPod , train tracks iPhone case, train tracks toss pillow, train tracks clock, train tracks laptop skin, train tracks iPad case, train tracks dorm decor, train tracks office decor, train tracks home decor, train tracks galaxy phone case, train tracks pillow, train tracks gifts for her, train tracks wall art, train tracks framed art print, train tracks art print, train tracks canvas art print, train tracks leggings, train tracks all over print t-shirt, train tracks t-shirt, train tracks tapestries, train track tapestry, train tracks blanket, train track fleece blanket, train track throw blanket, train tracks wall tapestry,
Train Throw Pillow, Train Duvet Cover, Train Phone Case, Train Rugs, Train Shower curtain, Train laptop sleeve, Train iphone cover, Train ipad caseTrain iPhone skin , Train iPod , Train iPhone case, Train toss pillow, Train clock, Train laptop skin, Train iPad case, Train dorm decor, Train office decor, Train home decor, Train galaxy phone case, Train pillow, Train gifts for her, Train bathroom decor, Train wall art, Train framed art print, Train art print, Train canvas art print, train wall tapestry, train all over print t-shirt, train t-shirt, train jacket, train hoodie, train blanket, train fleece blanket, train throw blanket, train tapestry, train tapestries,
Space, outerspace, planet, stars, extraterrestrial, alien planet, planets, night stars, nebula sky, teal night, galaxy, teal galaxy, nebula, tree branches, abstract tree artwork, tree tops, magical thinking, celestial scene, silhouette, trees at night, star field, shine in the darkness, stars can't shine without darkness art, twilight trees, nature's artwork, abstract tree design, ethereal trees, surreal treescape, abstract tree branch artwork, modern tree artwork, night tree silhouette, modern night tree artwork, modern tree design, colorful night, colorful galaxy, colorful nebula, night, nebula night, nebula sky, wall tapestry, wall tapestries, tapestry, tapestries, galaxy wall tapestry, galaxy wall tapestries, galaxy tapestry, galaxy tapestries,
space, nebula , the universe, outer space, galaxy, galaxies, constellation, stars, clouds, cosmic,cosmos, astronomy, astrology, mystical, spiritual, nature, nasa image, hubble telescope, space, outer space, stars, star, galaxy, galaxies, celestial, spiritual, cosmic, cosmos, the universe, constellation, constellations, nebula, nebulae, galactic,
#space #nebula #theuniverse #outerspace #galaxy #galaxies #constellation #stars #clouds #cosmic #cosmos #astronomy #astrology #mystical #spiritual #galaxyprint #nebula #orionnebul #canvasprint ##nature, #nasa image #hubbletelescope #space #outerspace #stars #star #galaxy #galaxies #celestial #spiritual #cosmic #cosmos #theuniverse #constellation #constellations #nebula #nebulae #galactic space Throw Pillow, space Duvet Cover, space Phone Case, space Rugs, space Shower curtain, space laptop sleeve, space iphone cover, space ipad case, space iPhone skin , space iPod case, space iPhone case, space toss space pillow, space clock, space laptop skin, space iPad case, space living room decor, space dining room decor, space bedroom decor, space dorm decor, space office decor, space home decor, space galaxy phone case, space pillow, space gifts for her, space bathroom decor, space wall art, space star, space framed art print, space art print, space canvas art print, space wall tapestry, space leggings, space all over print t-shirt, space tapestry, space tapestries, space blanket, space throw blanket,
galaxy Throw Pillow, galaxy Duvet Cover, galaxy Phone Case, galaxy Rugs, galaxy Shower curtain, galaxy laptop sleeve, galaxy iphone cover, galaxy ipad case, galaxy iPhone skin , galaxy iPod case, galaxy iPhone case, galaxy toss pillow, galaxy clock, galaxy laptop skin, galaxy iPad case, galaxy living room decor, galaxy dining room decor, galaxy bedroom decor, galaxy dorm decor, galaxy office decor, galaxy home decor, galaxy galaxy phone case, galaxy pillow, galaxy gifts for her, galaxy bathroom decor, galaxy wall art, galaxy star, galaxy framed art print, galaxy art print, galaxy canvas art print, galaxy wall tapestry, galaxy leggings, galaxy all over print t-shirt, galaxy t-shirt, galaxy tapestries, galaxy tapestry, galaxy blanket, galaxy throw blanket,
Stars Throw Pillow, Stars Duvet Cover, Stars Phone Case, Stars Rugs, Stars Shower curtain, Stars laptop sleeve, Stars iphone cover, Stars ipad case, Stars iPhone skin , Stars iPod case, Stars iPhone case, Stars toss pillow, Stars clock, Stars laptop skin, Stars iPad case, Stars living room decor, Stars dining room decor, Stars bedroom decor, Stars dorm decor, Stars office decor, Stars home decor, Stars galaxy phone case, Stars pillow, Stars gifts for her, Stars bathroom decor, Stars wall art, Stars art print, Stars framed art print, Stars canvas art print, stars wall tapestry, stars leggings, stars all over print t-shirt, stars tapestry, stars tapestries, stars blanket, stars throw blanket,
nebula Throw Pillow, nebula Duvet Cover, nebula Phone Case, nebula Rugs, nebula Shower curtain, nebula laptop sleeve, nebula iphone cover, nebula ipad case, nebula living room decor, nebula bedroom decor, nebula dorm decor, nebula iPhone skin , nebula iPod case, nebula iPhone case, nebula toss pillow, nebula clock, nebula laptop skin, nebula iPad case, nebula living room, nebula dining room, nebula bedroom, nebula dorm decor, nebula office decor, nebula home decor, nebula galaxy phone case, nebula pillow, nebula gifts for her, nebula bathroom decor, nebula wall art, star, nebula framed art print, nebula art print, nebula canvas art print, nebula wall tapestry, nebula leggings, nebula all over print t-shirt, nebula t-shirt, nebula tapestry, nebula tapestries, nebula blanket, nebula throw blanket,
Celestial Throw Pillow, celestial Duvet Cover, celestial Phone Case, celestial Rugs, celestial Shower curtain, celestial laptop sleeve, celestial iphone cover, celestial ipad case, celestial iPhone skin , celestial iPod case, celestial iPhone case, celestial toss pillow, celestial clock, celestial laptop skin, celestial iPad case, celestial living room decor, celestial dining room decor, celestial bedroom decor, celestial dorm decor, celestial office decor, celestial home decor, celestial galaxy phone case, celestial pillow, celestial gifts for her, celestial bathroom decor, celestial wall art, celestial art print, celestial framed art print, celestial canvas art print, celestial Christmas gift, celestial Birthday gift, celestial gifts for him, celestial gifts for teenagers, celestial gifts for her, celestial bridal gifts, celestial wedding shower gift, celestial inspirational, celestial wall tapestry, celestial wall clock, celestial Mother's Day Gift, celestial Father's Day, celestial leggings, celestial all over print t-shirt, celestial tapestries, celestial blanket, celestial throw blanket,
mystical Throw Pillow, mystical Duvet Cover, mystical Phone Case, mystical Rugs, mystical Shower curtain, mystical laptop sleeve, mystical iphone cover, mystical ipad case, mystical iPhone skin , mystical iPod case, mystical iPhone case, mystical toss pillow, mystical clock, mystical laptop skin, mystical iPad case, mystical living room decor, mystical dining room decor, mystical bedroom decor, mystical dorm decor, mystical office decor, mystical home decor, mystical galaxy phone case, mystical pillow, mystical gifts for her, mystical bathroom decor, mystical wall art, mystical art print, mystical framed art print, mystical canvas art print, mystical Christmas gift, mystical Birthday gift, mystical gifts for him, mystical gifts for teenagers, mystical gifts for her, mystical bridal gifts, mystical wedding shower gift, inspirational, mystical wall tapestry, mystical wall clock, mystical Mother's Day Gift, mystical Father's Day Gift, mystical wall tapestry, mystical leggings, mystical all over print t-shirt, mystical tapestry, mystical tapestries, mystical blanket, mystical throw blanket,
magical Throw Pillow, magical wall tapestry, magical leggings, magical all over print t-shirt, magical Duvet Cover, magical Phone Case, magical Rugs, magical Shower curtain, magical laptop sleeve, magical iphone cover, magical ipad case, magical iPhone skin , magical iPod case, magical iPhone case, magical toss pillow, magical clock, magical laptop skin, magical iPad case, magical living room decor, magical dining room decor, magical bedroom decor, magical dorm decor, magical office decor, magical home decor, magical galaxy phone case, magical pillow, magical gifts for her, magical bathroom decor, magical wall art, magical art print, magical framed art print, magical canvas art print, magical Christmas gift, magical Birthday gift, magical gifts for him, magical gifts for teenagers, magical gifts for her, magical bridal gifts, magical wedding shower gift, magical inspirational, magical wall tapestry, magical wall clock, magical Mother's Day Gift, magical Father's Day Gift, magical blanket, magical throw blanket, magical tapestries, magical tapestry Dream Throw Pillow, Dream Duvet Cover, Dream Phone Case, Dream Rugs, Dream Shower curtain, Dream laptop sleeve, Dream iphone cover, Dream ipad case, Dream living room, Dream bedroom, Dream dorm decor, Dream iPhone skin , Dream iPod case, Dream iPhone case, Dream toss pillow, Dream clock, Dream laptop skin, Dream iPad case, Dream living room decor, Dream dining room decor, Dream bedroom decor, Dream dorm decor, Dream office decor, Dream home decor, Dream galaxy phone case, Dream pillow, Dream gifts for her, Dream bathroom decor, Dream wall art, Dream framed art print, Dream art print, Dream canvas art print, dream tapestry, dream wall tapestry, dream tapestries, dream blanket, dream throw blanket, fantasy pillow, fantasy phone case, fantasy rug, fantasy shower curtain, fantasy laptop sleeves, fantasy duvet cover, fantasy duvet, fantasy home decor, colorful, fantasy throw pillow, fantasy wall tapestry, fantasy duvet cover, fantasy phone case, fantasy iphone case, fantasy shower curtain, fantasy rug, fantasy throw blanket, dream throw blanket, fantasy blanket, fantasy tapestry, fantasy tapestries,
black trees Throw Pillow, black trees Duvet Cover, black trees Phone Case, black trees Rugs, black trees Shower curtain, black trees laptop sleeve, black trees iphone cover, black trees ipad case, black trees iPhone skin , black trees iPod case, black trees iPhone case, black trees toss pillow, black trees wall clock, black trees laptop skin, black trees iPad case, black trees wall tapestry, black trees leggings, black trees all over print t-shirt, black trees tapestry, black trees tapestries, black trees blanket, black trees throw blanket,
Trees Throw Pillow, Trees Duvet Cover, Trees Phone Case, Trees Rugs, Trees Shower curtain, Trees laptop sleeve, Trees iphone cover, Trees ipad case, Trees iPhone skin , Trees iPod case, Trees iPhone case, Trees toss pillow, Trees clock, Trees laptop skin, Trees iPad case, Trees living room decor, Trees dining room decor, Trees bedroom decor, Trees dorm decor, Trees office decor, Trees home decor, Trees galaxy phone case, Trees pillow, Trees gifts for her, Trees bathroom decor, Trees wall art, Trees art print, Trees framed art print, Trees canvas art print, trees wall tapestry, trees leggings, trees all over print t-shirt, trees tapestry, trees tapestries, trees blanket, trees throw blanket, Forest Green , Forest Green Throw Pillow, Forest Duvet Cover, Forest Blanket, Forest Throw Blanket, Forest Phone Case, Forest wall tapestry, Forest leggings, Forest all over print t-shirt, Forest rug, Forest Rugs, Forest Shower curtain, Forest laptop sleeve, Forest iphone cover, Forest ipad case, Forest iPhone skin , Forest iPod case, Forest iPhone case, Forest toss pillow, Forest clock, Forest laptop skin, Forest iPad case, Forest tapestry, Forest tapestries, Forest living room decor, Forest dining room decor, Forest bedroom decor, Forest dorm decor, Forest office decor, Forest home decor, Forest galaxy phone case, Forest pillow, Forest gifts for her, Forest bathroom decor, Forest wall art, Forest art print, Forest framed art print, Forest canvas art print, Forest Christmas gift, Forest Birthday gift, Forest gifts for him, Forest gifts for teenagers, Forest gifts for her, Forest Father's Day Gift, Forest t-shirt,
cool Throw Pillow, cool Duvet Cover, cool Blanket, cool Throw Blanket, cool Phone Case, cool wall tapestry, cool leggings, cool all over print t-shirt, cool rug, cool Rugs, cool Shower curtain, cool laptop sleeve, cool iphone cover, cool ipad case, cool iPhone skin , cool iPod , cool iPhone case, cool toss pillow, cool clock, cool laptop skin, cool iPad case, cool tapestry, cool tapestries, cool bedroom decor, cool dorm decor, cool office decor, cool home decor, cool galaxy phone case, cool pillow, cool gifts for her, cool bathroom decor, cool wall art, cool art print, inspirational
purple Throw Pillow, purple Duvet Cover, purple Phone Case, purple Rugs, purple Shower curtain, purple laptop sleeve, purple iphone cover, purple ipad case, purple iPhone skin , purple iPod case, purple iPhone case, purple toss pillow, purple clock, purple laptop skin, purple iPad case, purple living room decor, purple dining room decor, purple bedroom decor, purple dorm decor, purple office decor, purple home decor, purple galaxy phone case, purple pillow, purple gifts for her, purple bathroom decor, purple wall art, purple canvas art, purple framed art print, , purple wall tapestry, purple leggings, purple all over print t-shirt, purple blanket, purple throw blanket, purple tapestries, purple tapestry, purple t-shirt, purple wall clock,
blue Throw Pillow, Blue Duvet Cover, Blue Phone Case, Blue Rugs, Blue Shower curtain, Blue laptop sleeve, Blue iphone cover, Blue ipad case, Blue iPhone skin , Blue iPod case, Blue iPhone case, Blue toss pillow, Blue clock, Blue laptop skin, Blue iPad case, Blue living room decor, Blue dining room decor, Blue bedroom decor, Blue dorm decor, Blue office decor, Blue home decor, Blue galaxy phone case, Blue pillow, Blue gifts for her, Blue bathroom decor, Blue wall art, Blue art print, Blue framed art print, Blue canvas art print, Blue Mother's Day Gift, Blue Father's Day Gift, blue wall tapestry, blue leggings, blue all over print t-shirt, blue tapestry, blue tapestries, blue blanket, blue throw blanket, blue t-shirt,
More from this artist
Verified member since 1970
Shop all from this artist
About Society6 Clear iPhone Cases
Society6 Clear iPhone Cases
Made to order
Each Society6 product is individually printed and assembled when you order it, so please allow 3-5 days manufacture time for your custom product.
No-hassle returns
We want you to be stoked with your purchase, so if you're not, let us know. We offer a 100% Happiness Guarantee, which means free refunds and exchanges.
Every purchase pays an artist
Society6 artists live all over the world, and every purchase puts money right in their pockets. We've been helping artists do what they love since 2009.