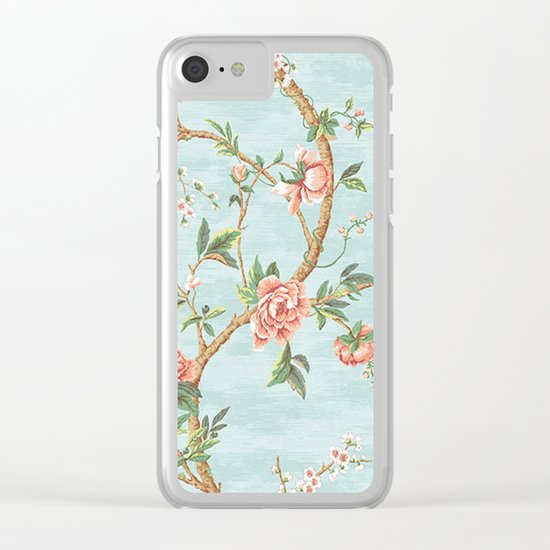 Clear iPhone Case
We can complain because rose bushes have thorns or rejoice because thorn bushes have roses.
by
Better HOME
20% Off + Free Worldwide Shipping on Phone Cases Today!
DESCRIPTION
Shop clear iPhone cases featuring brilliant patterns and designs on frosted, transparent shells - created by the world's best independent artists.
ABOUT THE ART
Vintage pattern of a growing rose branches with blooming roses on turquoise grunge backround. Looks lovely on all products.

design, vintage, retro, frame, vector, label, illustration, decoration, element, tag, old, card, style, decorative, set, ornate, border, invitation, classic, quality, collection, victorian, floral, texture, classical, greeting, premium, nostalgia, calligraphic, ornamental, banner, grunge, certificate, pattern, guarantee, background, paper, book, stamp, calligraphy, vignette, art, elegant, typographic, satisfaction, flourish, page, document, ornament, genuine, antique, wedding, nostalgic, filigree, symbol, engraving, traditional, sign, graphic, artwork, blue, romantic, product, decor, template, wedding invitation, shield, trendy, celebration, print, color, backdrop, wallpaper, luxury, aged, beautiful, elegance, elements, flower, abstract background, bride veil, postcard, watercolor, tender, textured, shabby, detailed, festive, design element, dust, handmade, utart, betterhome, better home, uta naumann, vector, vintage, illustration, retro, animal, nature, engraving, drawing, etching, engraved, design, collection, wildlife, fauna, antique, zoo, zoology, wild, natural, set, ancient, isolated, farm, silhouette, element, hen, goat, horse, cow, rooster, chicken, rabbit, bird, pig, art, sheep, white, artwork, mammal, print, duck, predator, background, cock, goose, sketch, graphic, poultry, meat, sea, picture, old, feather, handdrawn, animals, birds, doodle

watercolor, design, art, background, illustration, element, abstract, texture, paper, stain, color, drawing, vector, paint, decoration, grunge, artistic, creativity, backdrop, brush, watercolour, graphic, green, ink, white, splash, wallpaper, set, frame, bright, colorful, image, dirty, modern, textured, vintage, hand, pink, pattern, style, beautiful, creative, isolated, shape, wet, decorative, circle, blue, nature, collection, template, spring, draw, water, natural, summer, artwork, leaf, blot, plant, text, garden, vibrant, paintbrush, acrylic, branch, floral, botanical, drawn, flower, material, liquid, sign, concept, spatter, foliage, corporate, handmade, sketch, space, yellow, wedding, conservation, hand painted, violet, wash, clip, splat, red, poster, spot, daub, flora, aqua, drop, blank, painted, petal, painting, border, bubble, aquarelle, aged, bouquet, dye, grungy, season, grain, composition, abcd, abc painted letters, watercolor gradient, abc letters, dab, watercolor circles, alphabet isolated, watercolor vector, alphabet, alphabet letters, abcs background, abcs, closeup, canvas, chinese, watercolor squares, abcs calligraphy, watercolour ombre, watercolour gradient, watercolour background, watercolour abstract, dirt, watercolour circle, watercolor wash, abc isolated, material design, material background, curl, material texture, saturated, craft, round, gradient, hand written alphabet vector, modern lettering, modern abcs, letters, isolated alphabet, hand painted watercolor letters, hand painted font, spectrum, colored, badge, wave, icon, splatter, blossom, abstract watercolor vector, abstract watercolour vector, branding, brush stroke, spots, contemporary, rainbow, hand drawn, grainy, button, teal blue, hand painted alphabet, banner, watercolor font, watercolor alphabet, ombre watercolor, ombre, painted background, hand painted vector, painted alphabet letters, painted alphabet isolated, vector alphabet, vector abcs, vector font, painted watercolour alphabet, painted alphabet, painted watercolor alphabet, watercolour letters, watercolor letters, calligraphy alphabet, calligraphy vector, black watercolor letters, droplet, hand painted abcs, brushed letters, hand lettering, hand lettered, watercolour font, watercolour alphabet, teal, modern watercolour alphabet, teal waterolor, cute alphabet, wreath, hand-drawn, seamless, mint, rose, retro, effect, light, line, invitation, feather, splattered, black alphabet letters, dark, triangle, trendy, block, worn, cool, watercolour rectangle, watercolor background, soft, hue, messy, vector watercolor background, watercolor background vector, vector watercolour, trace, geometric, hipster, watercolour square, wet watercolour, surface, stroke, backgrounds, watercolour wash, flowers, card, celebration, ornate, laurel, ornamental, hydrangea, dill, loose, graded, blue watercolor background, curve, elegance, pretty, graded wash, black painted letters, brushed, copy, environmental, watercolour vector, watercolour texture, watercolour vector background, watercolour teal, lime, intensity, rusty, rough, scan, pastel, blob, multilayer, painted vector
pink, blossom, cherry, spring, nature, blooming, background, branch, sakura, flower, petal, japanese, beautiful, decoration, isolated, floral, tree, plant, season, japan, white, april, garden, bloom, delicate, fresh, oriental, bud, close, new, detail, young, flora, blossoming, leaf, closeup, illustration, wallpaper, close-up, beauty, design, east, element, vector, apple, gentle, macro, softness, natural, tender, bright, fukushima, romantic, tranquility, prunus, tenderness, backdrop, march, gardening, soft, easter, traditional, springtime, freshness, pretty, botany, landscape, silhouette, seasonal, chinese, stem, title, wide, color, blossoms, image, drawing, botanical, florist, wedding, horizontal, symbol, flowers, asia, light, abstract, park, summer, green, colorful, single, culture, asian, texture, graphical, scrapbook, colour, colourful, fragility, stylized, watercolor painting, sketch, asian culture, bouquet, blue, ornament, branches

Flowers Throw Pillow, Flowers Duvet Cover, Flowers Phone Case, Flowers Rugs, Flowers Rug, Flowers Shower curtain, Flowers laptop sleeve, Flowers iphone cover, Flowers ipad case, Flowers living room, Flowers bedroom, Flowers dorm decor, Flowers iPhone skin , Flowers iPod , Flowers iPhone case, Flowers toss pillow, Flowers clock, Flowers laptop skin, Flowers iPad case, Flowers living room, Flowers dining room, Flowers bedroom, Flowers dorm decor, Flowers office decor, Flowers home decor, Flowers galaxy phone case, Flowers pillow, Flowers gifts for her, Flowers bathroom decor, Flowers wall art, Flowers art print, Flowers framed art print, Flowers canvas art print, Flowers Christmas gift, Flowers Birthday gift, Flowers gifts for him, Flowers gifts for teenagers, Flowers gifts for her, Flowers bridal gifts, Flowers wedding shower gift, Flowers inspirational, Flowers wall tapestry, Flowers wall clock, Flowers Mother's Day Gift, Flowers Father's Day Gift, flowers wall tapestry, leggings, flowers all over print t-shirt

Floral Throw Pillow, Floral Duvet Cover, Floral Phone Case, Floral Rugs, Floral Rug, Floral Shower curtain, Floral laptop sleeve, Floral iphone cover, Floral ipad case, Floral living room, Floral bedroom, Floral dorm decor, Floral iPhone skin , Floral iPod , Floral iPhone case, Floral toss pillow, Floral clock, Floral laptop skin, Floral iPad case, Floral living room, Floral dining room, Floral bedroom, Floral dorm decor, Floral office decor, Floral home decor, Floral galaxy phone case, Floral pillow, Floral gifts for her, Floral bathroom decor, Floral wall art, Floral art print, Floral framed art print, Floral canvas art print, Floral Christmas gift, Floral Birthday gift, Floral gifts for him, Floral gifts for teenagers, Floral gifts for her, Floral bridal gifts, Floral wedding shower gift, Floral inspirational, Floral wall tapestry, Floral wall clock, Floral Mother's Day Gift, Floral Father's Day Gift, floral wall tapestry, leggings, floral all over print t-shirt

Blossom Throw Pillow, Blossom Duvet Cover, Blossom Phone Case, Blossom Rugs, Blossom Rug, Blossom Shower curtain, Blossom laptop sleeve, Blossom iphone cover, Blossom ipad case, Blossom living room, Blossom bedroom, Blossom dorm decor, Blossom iPhone skin , Blossom iPod , Blossom iPhone case, Blossom toss pillow, Blossom clock, Blossom laptop skin, Blossom iPad case, Blossom living room, Blossom dining room, Blossom bedroom, Blossom dorm decor, Blossom office decor, Blossom home decor, Blossom galaxy phone case, Blossom pillow, Blossom gifts for her, Blossom bathroom decor, Blossom wall art, Blossom art print, Blossom framed art print, Blossom canvas art print, Blossom Christmas gift, Blossom Birthday gift, Blossom gifts for him, Blossom gifts for teenagers, Blossom gifts for her, Blossom bridal gifts, Blossom wedding shower gift, Blossom inspirational, Blossom wall tapestry, Blossom wall clock, Blossom Mother's Day Gift, Blossom Father's Day Gift, blossom wall tapestry, leggings, blossom all over print t-shirt

Flora Throw Pillow, Flora Duvet Cover, Flora Phone Case, Flora Rugs, Flora Rug, Flora Shower curtain, Flora laptop sleeve, Flora iphone cover, Flora

Vintage Throw Pillow, Vintage Duvet Cover, Vintage Phone Case, Vintage Rugs, Vintage Rug, Vintage Shower curtain, Vintage laptop sleeve, Vintage iphone cover, Vintage ipad case, Vintage living room, Vintage bedroom, Vintage dorm decor, Vintage iPhone skin , Vintage iPod , Vintage iPhone case, Vintage toss pillow, Vintage clock, Vintage laptop skin, Vintage iPad case, Vintage living room, Vintage dining room, Vintage bedroom, Vintage dorm decor, Vintage office decor, Vintage home decor, Vintage galaxy phone case, Vintage pillow, Vintage gifts for her, Vintage bathroom decor, Vintage wall art, Vintage art print, Vintage framed art print, Vintage canvas art print, Vintage Christmas gift, Vintage Birthday gift, Vintage gifts for him, Vintage gifts for teenagers, Vintage gifts for her, Vintage bridal gifts, Vintage wedding shower gift, Vintage inspirational, Vintage wall tapestry, Vintage wall clock, Vintage Mother's Day Gift, Vintage Father's Day Gift, vintage wall tapestry, leggings, vintage all over print t-shirt
Illustration Throw Pillow, Illustration Duvet Cover, Illustration Phone Case, Illustration Rugs, Illustration Rug, Illustration Shower curtain, Illustration laptop sleeve, Illustration iphone cover, Illustration ipad case, Illustration living room, Illustration bedroom, Illustration dorm decor, Illustration iPhone skin , Illustration iPod , Illustration iPhone case, Illustration toss pillow, Illustration clock, Illustration laptop skin, Illustration iPad case, Illustration living room, Illustration dining room, Illustration bedroom, Illustration dorm decor, Illustration office decor, Illustration home decor, Illustration galaxy phone case, Illustration pillow, Illustration gifts for her, Illustration bathroom decor, Illustration wall art, Illustration art print, Illustration framed art print, Illustration canvas art print, Illustration Christmas gift, Illustration Birthday gift, Illustration gifts for him, Illustration gifts for teenagers, Illustration gifts for her, Illustration bridal gifts, Illustration wedding shower gift, Illustration inspirational, Illustration wall tapestry, Illustration wall clock, Illustration Mother's Day Gift, Illustration Father's Day Gift, illustration wall tapestry, leggings, illustration all over print t-shirt

Shabby Throw Pillow, Shabby Duvet Cover, Shabby Phone Case, Shabby Rugs, Shabby Rug, Shabby Shower curtain, Shabby laptop sleeve, Shabby iphone cover, Shabby ipad case, Shabby living room, Shabby bedroom, Shabby dorm decor, Shabby iPhone skin , Shabby iPod , Shabby iPhone case, Shabby toss pillow, Shabby clock, Shabby laptop skin, Shabby iPad case, Shabby living room, Shabby dining room, Shabby bedroom, Shabby dorm decor, Shabby office decor, Shabby home decor, Shabby galaxy phone case, Shabby pillow, Shabby gifts for her, Shabby bathroom decor, Shabby wall art, Shabby art print, Shabby framed art print, Shabby canvas art print, Shabby Christmas gift, Shabby Birthday gift, Shabby gifts for him, Shabby gifts for teenagers, Shabby gifts for her, Shabby bridal gifts, Shabby wedding shower gift, Shabby inspirational, Shabby wall tapestry, Shabby wall clock, Shabby Mother's Day Gift, Shabby Father's Day Gift, shabby wall tapestry, leggings, shabby all over print t-shirt
Turquoise aqua blue green pattern Throw Pillow, Turquoise aqua blue green pattern Duvet Cover, Turquoise aqua blue green pattern Phone Case, Turquoise aqua blue green pattern Rugs, Turquoise aqua blue green pattern Rug, Turquoise aqua blue green pattern Shower curtain, Turquoise aqua blue green pattern laptop sleeve, Turquoise aqua blue green pattern iphone cover, Turquoise aqua blue green pattern ipad case, Turquoise aqua blue green pattern living room, Turquoise aqua blue green pattern bedroom, Turquoise aqua blue green pattern dorm decor, Turquoise aqua blue green pattern iPhone skin , Turquoise aqua blue green pattern iPod , Turquoise aqua blue green pattern iPhone case, Turquoise aqua blue green pattern toss pillow, Turquoise aqua blue green pattern clock, Turquoise aqua blue green pattern laptop skin, Turquoise aqua blue green pattern iPad case, Turquoise aqua blue green pattern living room, Turquoise aqua blue green pattern dining room, Turquoise aqua blue green pattern bedroom, Turquoise aqua blue green pattern dorm decor, Turquoise aqua blue green pattern office decor, Turquoise aqua blue green pattern home decor, Turquoise aqua blue green pattern galaxy phone case, Turquoise aqua blue green pattern pillow, Turquoise aqua blue green pattern gifts for her, Turquoise aqua blue green pattern bathroom decor, Turquoise aqua blue green pattern wall art, Turquoise aqua blue green pattern art print, Turquoise aqua blue green pattern framed art print, Turquoise aqua blue green pattern canvas art print, Turquoise aqua blue green pattern Christmas gift, Turquoise aqua blue green pattern Birthday gift, Turquoise aqua blue green pattern gifts for him, Turquoise aqua blue green pattern gifts for teenagers, Turquoise aqua blue green pattern gifts for her, Turquoise aqua blue green pattern bridal gifts, Turquoise aqua blue green pattern wedding shower gift, Turquoise aqua blue green pattern inspirational, Turquoise aqua blue green pattern wall tapestry, Turquoise aqua blue green pattern wall clock, Turquoise aqua blue green pattern Mother's Day Gift, Turquoise aqua blue green pattern Father's Day Gift, turquoise aqua blue green pattern wall tapestry, leggings, turquoise aqua blue green pattern all over print t-shirt
graphic-design digital watercolor ink
pattern illustration concept vintage
flower floral roses beautiful
decorative feminine luxury elegant
shabby