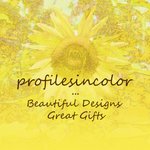 profilesincolor
Profiles in Color Shop Welcome to a friendly assortment of nature-inspired, occupational and abstract designs, great for adding sparkle and color to your devices, apparel, walls and whatnots! Enjoy! profilesincolor bio Thanks for your interest! I've been a fine artist for more than a few decades and a digital artist since 1997. Dazzled by things colorful, natural, and expressive of a kindly purpose. profilesincolor joined Society6 on November 26, 2016
More
Profiles in Color Shop
Welcome to a friendly assortment of nature-inspired, occupational and abstract designs, great for adding sparkle and color to your devices, apparel, walls and whatnots! Enjoy!
profilesincolor bio
Thanks for your interest! I've been a fine artist for more than a few decades and a digital artist since 1997. Dazzled by things colorful, natural, and expressive of a kindly purpose.
profilesincolor joined Society6 on November 26, 2016.