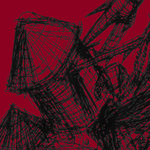 Prophet of Slaughter
I draw as self-expression. I used to be heavily interested in Warhammer 40k and other wargames and violent fantasy/science-fiction. Now not so much. Too much senseless violence and destruction. I know it's a cliché but if I wasn't an artist, I'd probably be a mass murderer. I use drawing as self-expression and coping method. Spending some time drawing a punishment scene helps me to calm down. I use red colour taken from execution video to reflect my rage. My current favourite artists are Wil Rees (his illustrations for Warhammer 40,000: Rogue Trader), Albrecht Durer and Ian Miller. Prophet of Slaughter joined Society6 on February 25, 2016
More
I draw as self-expression. I used to be heavily interested in Warhammer 40k and other wargames and violent fantasy/science-fiction. Now not so much. Too much senseless violence and destruction.
I know it's a cliché but if I wasn't an artist, I'd probably be a mass murderer.
I use drawing as self-expression and coping method. Spending some time drawing a punishment scene helps me to calm down.
I use red colour taken from execution video to reflect my rage.
My current favourite artists are Wil Rees (his illustrations for Warhammer 40,000: Rogue Trader), Albrecht Durer and Ian Miller.
Prophet of Slaughter joined Society6 on February 25, 2016.
Prophet of Slaughter's Store
36 results
Filter