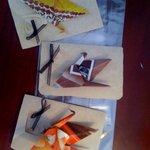 ProsperityWishes, LLC
PROSPERITY WISHES is about life well-lived for the greater good, and creating something that grows as it goes. The art of a hand crafted gift is cherished by all. And to be able to re-purpose your gift, is exceptional. The joy of our business is the interchange of the gifting, because the best prosperity wish is a one-to-one exchange. We are giving you a product that has an exponentially greater potential. The gift can be given multiple-times, each WITH PROSPERITY in mind. It's about inspiring the exceptional, by adding soul, and excitement to any creation. It's about providing a creative expression with a minimal expense. Your collaborations make a difference, the following are sites we love: #DavidLynchFoundation #SFPublicLibrary, http://www.breadandroses.org/images/stories/bnr_wordmark2_2C_rgb_marks.jpg and, #HanaFresh ...Enjoy! ProsperityWishes, LLC joined Society6 on November 7, 2013
More
PROSPERITY WISHES is about life well-lived for the greater good, and creating something that grows as it goes. The art of a hand crafted gift is cherished by all. And to be able to re-purpose your gift, is exceptional.
The joy of our business is the interchange of the gifting, because the best prosperity wish is a one-to-one exchange. We are giving you a product that has an exponentially greater potential. The gift can be given multiple-times, each WITH PROSPERITY in mind. It's about inspiring the exceptional, by adding soul, and excitement to any creation. It's about providing a creative expression with a minimal expense.
Your collaborations make a difference, the following are sites we love: #DavidLynchFoundation #SFPublicLibrary, http://www.breadandroses.org/images/stories/bnr_wordmark2_2C_rgb_marks.jpg and, #HanaFresh
...Enjoy!
ProsperityWishes, LLC joined Society6 on November 7, 2013.