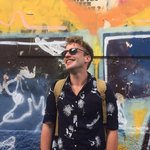 Severus Heyn
Queer illustrator presenting a mix of humorous, sexy pop art with the mission to represent the vast diversity of human existence. Lived in Germany, UK, Australia, the Netherlands.
My chief editor of the German Magazine "Vintage Flaneur" called me: "The queer redneck cousin of Andy Warhol."
And my lovely artist colleague James Falciano from New York City described my work as: "... wonderful, expressive and delightfully erotic."
Read more