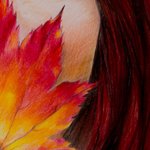 prutickell
I started drawing when I was twelve with anime and cartoons. As an artist I grew and developed over time to use a wide variety of media. Today I consider myself a well rounded and versatile artist able to adapt and create a number of drastically different styles. The technique or style that I believe will set me apart is the one I used to create my favorite painting to date "Fall Majesty". The "Touch Technique" uses painters tape to keep layers of paint separate so that the color stays vibrant regardless of the paint quality. The process is very tedious and the end result is a bit of a mystery. As I painted it I followed a basic idea and hoped that in the end it would all work out. Five months and ten rolls of tape later I was more that happy with the result. It has become the painting I have been known for. GOAL I have created a few more paintings using this technique since "Fall Majesty" but none have surpassed its beauty. I hope with your purchases I am able to one day work full time as an artist so I can create larger more intricate paintings more beautiful than the last. prutickell joined Society6 on February 4, 2016
More
I started drawing when I was twelve with anime and cartoons. As an artist I grew and developed over time to use a wide variety of media. Today I consider myself a well rounded and versatile artist able to adapt and create a number of drastically different styles. The technique or style that I believe will set me apart is the one I used to create my favorite painting to date "Fall Majesty".
The "Touch Technique" uses painters tape to keep layers of paint separate so that the color stays vibrant regardless of the paint quality. The process is very tedious and the end result is a bit of a mystery. As I painted it I followed a basic idea and hoped that in the end it would all work out. Five months and ten rolls of tape later I was more that happy with the result. It has become the painting I have been known for.
GOAL I have created a few more paintings using this technique since "Fall Majesty" but none have surpassed its beauty. I hope with your purchases I am able to one day work full time as an artist so I can create larger more intricate paintings more beautiful than the last.
prutickell joined Society6 on February 4, 2016.
prutickell's Store
26 results
Filter