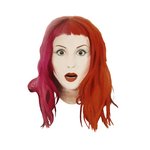 Pseudonumb
We're Haz John and Ella John, sisters and artists from South Wales, UK. We're heavily influenced by pop culture and nature. We tend to work mostly in traditional methods but like to dabble in some digital painting here and there. If you buy or enjoy any of our products please leave a message on our timeline on Facebook.com/PseudonumbArt to help us out! Our personal art pages are: pseudonumb-ej.tumblr.com and instagram.com/hazjohnart Pseudonumb joined Society6 on November 23, 2015
More
We're Haz John and Ella John, sisters and artists from South Wales, UK. We're heavily influenced by pop culture and nature. We tend to work mostly in traditional methods but like to dabble in some digital painting here and there.
If you buy or enjoy any of our products please leave a message on our timeline on Facebook.com/PseudonumbArt to help us out!
Our personal art pages are:
pseudonumb-ej.tumblr.com
and
instagram.com/hazjohnart
Pseudonumb joined Society6 on November 23, 2015.