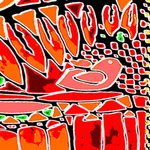 Minnie's Dreams
My images are about capturing the energy of places, people and things. Getting that perfect shot is never my goal. I prefer to just shoot - relying on my camera to capture what I feel and on the lens to record what my naked eye doesn't see. I hope you enjoy my images as much as I enjoy creating them! Minnie's Dreams joined Society6 on June 14, 2012
More
My images are about capturing the energy of places, people and things. Getting that perfect shot is never my goal. I prefer to just shoot - relying on my camera to capture what I feel and on the lens to record what my naked eye doesn't see.
I hope you enjoy my images as much as I enjoy creating them!
Minnie's Dreams joined Society6 on June 14, 2012.