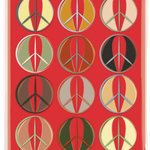 pussies4peace
In response to our current political climate in the United States, I have collected artwork under the theme "Pussies For Peace," so that we may redirect our rhetoric and goals toward a united front to protect the rights of all Americans. All profits from this page will be donated to Planned Parenthood. Let's remain vigilant in our desire for inclusive discourse while marching for peace with everyone on January 21, 2017. If you would like to add artwork to this page, please email a png to: pussies4peace@gmail.com pussies4peace joined Society6 on December 13, 2016
More
In response to our current political climate in the United States, I have collected artwork under the theme "Pussies For Peace," so that we may redirect our rhetoric and goals toward a united front to protect the rights of all Americans. All profits from this page will be donated to Planned Parenthood.
Let's remain vigilant in our desire for inclusive discourse while marching for peace with everyone on January 21, 2017.
If you would like to add artwork to this page, please email a png to: pussies4peace@gmail.com
pussies4peace joined Society6 on December 13, 2016.