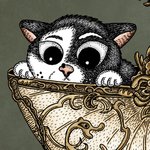 PussInBooks
Meet Jenny, owner of Puss In Books Illustration
Born and raised in Leipzig, Germany, I moved to the Netherlands in 2009 to study illustration. After graduating in 2013 with a Bachelor of Design, I now work as an artist and illustrator. I live together with my beloved boyfriend in the coastal province of Zeeland (the Netherlands). The culture of this province is a big inspiration to my art.
My two cats Beebiepoes and Claudius are even larger inspirations to my art. Because of them the name Puss In Books came about. In almost all of my productions you will find depictions of at least one of them. I am also fascinated by macabre things like death and I like to make a connection between the cute and the horrifying. Therefore, I call my style 'creepy cute'.
All my illustrations are drawn by hand. Colors are digitally added afterwards.
Read more