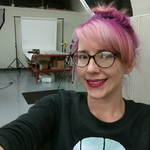 Lori Petersen
Hi! My name is Lori Petersen. I'm an artist, graphic designer, illustrator, sculptor, & crafter. The easiest way to describe myself would be to say that if it's creative I'm into it! I have a BFA in Fashion Design.
I currently live in Orange County California but am originally from the east coast. New Jersey specifically. :) But I'm from the northwest corner where it's easy to see why NJ is called the "Garden State".
When I'm not creating some sort of art (or working my day job) I'm either curled up at home watching a movie or out looking for cool vintage stores. I'm fascinated by pretty much all vintage stuff.. from vintage clothing to art to classic cars and motorcycles. I'm also a geek at heart. Some of my favorite things include Harry Potter, Dr. Who, Star Wars, Game of Thrones, Sailor Moon, Deep Space Nine, AD&D, board & card games. I do enjoy a good book too though! I like Roger Zelazny, Steven Brust, Robin Hobb to name just a couple.
Read more