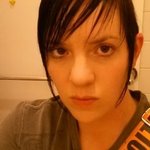 Liz McLean Knight
A self-proclaimed "multi-hyphenate," Liz McLean Knight is thoroughly immersed in fine art, technology, fashion, music, and the often-surprising overlaps between. She went to Bryn Mawr and California Institute of the Arts, pursuing majors in Computer Science and Fine Art, respectively. Returning home to Chicago she immersed herself in the experimental, techno, and house scenes as well as continuing to produce music as Quantazelle, and DJ as Liz Revision. When attempting to circuit bend battery-powered music toys for an upcoming electronic music performance as she discovered that electronic components can be turned into elegant jewelry and started an entire tech-based fashion line called Zelle. In 2010 she started a diffusion line Zelle 1337 with singular costume jewelry that serve as works of art on their own. She then started an online store, Fractalspin, to sell not only her jewelry, but also accessories and objects for the technologically-sophisticated yet fashionably-minded crowd. Desiring to assist similar artists reach a greater audience as well as provide gear for electronic musicians, she started subVariant–a record label and accessories company behind the well-received and essential Electronic Musician's Emergency Adapter kit. For her Quantazelle Her debut album released on subVariant, Coaster, was released digitally, as a CD that appeared to be a fancy beverage coaster and also as a limited Coaster "Deluxe Edition," featuring a case with a wriststrap to carry one's coaster along with custom surfaces (skins) and a certificate of authenticity. Liz McLean Knight joined Society6 on April 4, 2013
More
A self-proclaimed "multi-hyphenate," Liz McLean Knight is thoroughly immersed in fine art, technology, fashion, music, and the often-surprising overlaps between.
She went to Bryn Mawr and California Institute of the Arts, pursuing majors in Computer Science and Fine Art, respectively. Returning home to Chicago she immersed herself in the experimental, techno, and house scenes as well as continuing to produce music as Quantazelle, and DJ as Liz Revision. When attempting to circuit bend battery-powered music toys for an upcoming electronic music performance as she discovered that electronic components can be turned into elegant jewelry and started an entire tech-based fashion line called Zelle. In 2010 she started a diffusion line Zelle 1337 with singular costume jewelry that serve as works of art on their own.
She then started an online store, Fractalspin, to sell not only her jewelry, but also accessories and objects for the technologically-sophisticated yet fashionably-minded crowd.
Desiring to assist similar artists reach a greater audience as well as provide gear for electronic musicians, she started subVariant–a record label and accessories company behind the well-received and essential Electronic Musician's Emergency Adapter kit.
For her Quantazelle Her debut album released on subVariant, Coaster, was released digitally, as a CD that appeared to be a fancy beverage coaster and also as a limited Coaster "Deluxe Edition," featuring a case with a wriststrap to carry one's coaster along with custom surfaces (skins) and a certificate of authenticity.
Liz McLean Knight joined Society6 on April 4, 2013.
Liz McLean Knight's Store
44 results
Filter