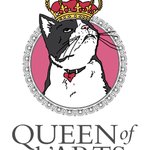 QueenHarts
Genna Parker-Harman, now also known as Queen of h'Arts was born in 1979 in Kings Heath Birmingham. Genna studied Fine Art at UWE Bristol and went on to train as an Art Teacher back in her hometown where she has now taught 11-18 year olds for over 12 years. This is where she has been inspired the most to develop her own style through studying a wide range of Artists and Designers to inspire her young practitioners! She led projects inspired by contemporary Artists Terry Bradley, Temper and Alex Pardee but also some classics like Picasso and Pop Artists Peter Blake and Julian Opie. It was through experimenting with these styles and materials that she found her own hand. Genna has always loved portraiture. She admits she sometimes struggled in Art School and often felt a little pressured to create contextual or abstract works whereas she was until then just drawing or painting for pleasure or for capturing realistic accuracy. It took her a while to find her confidence as a commercial Artist and to realise it was ok to just do what she loves again and it seems she really loves cats! Queen of h'Arts emerged when she moved house and impulsively decided to create a few quick designs of her pets to adorn the freshly painted walls. Genna is the owner of 4 rescue cats.. some from rescue centres... some that have just found her. It was after sharing her project on social media that she realised there were plenty of others that wanted their pets on walls too and loved her bright and modern style. And so a little rainy day activity gave her the confidence and motivation to keep the work and ideas coming. Following this she produced posters and prints to help raise money for local cat rescue centres. Queen of h'Arts works mainly with acrylic, watercolours, inks and paint pens and sometimes digital painting too. She creates bespoke illustrations where customers can choose a range of colours to match the home or even adding amusing or quirky accessories to capture the character of their pet. This is just the beginning; she has lots of ideas for working with mixed media, collage and fabric. She would also love to see her cats in print on home furnishings and stationery. It's early days but she is enjoying the challenges her supportive and returning customers give her. They're a popular and affordable purchase as a present for a loved one and often to treasure the memory of a passed pet. Genna is approachable and will discuss any requests and keep you involved in the process from initial design right through to final finishing touches. QueenHarts joined Society6 on November 22, 2016
More
Genna Parker-Harman, now also known as Queen of h'Arts was born in 1979 in Kings Heath Birmingham.
Genna studied Fine Art at UWE Bristol and went on to train as an Art Teacher back in her hometown where she has now taught 11-18 year olds for over 12 years. This is where she has been inspired the most to develop her own style through studying a wide range of Artists and Designers to inspire her young practitioners! She led projects inspired by contemporary Artists Terry Bradley, Temper and Alex Pardee but also some classics like Picasso and Pop Artists Peter Blake and Julian Opie. It was through experimenting with these styles and materials that she found her own hand.
Genna has always loved portraiture. She admits she sometimes struggled in Art School and often felt a little pressured to create contextual or abstract works whereas she was until then just drawing or painting for pleasure or for capturing realistic accuracy. It took her a while to find her confidence as a commercial Artist and to realise it was ok to just do what she loves again and it seems she really loves cats! Queen of h'Arts emerged when she moved house and impulsively decided to create a few quick designs of her pets to adorn the freshly painted walls. Genna is the owner of 4 rescue cats.. some from rescue centres... some that have just found her. It was after sharing her project on social media that she realised there were plenty of others that wanted their pets on walls too and loved her bright and modern style. And so a little rainy day activity gave her the confidence and motivation to keep the work and ideas coming. Following this she produced posters and prints to help raise money for local cat rescue centres. Queen of h'Arts works mainly with acrylic, watercolours, inks and paint pens and sometimes digital painting too. She creates bespoke illustrations where customers can choose a range of colours to match the home or even adding amusing or quirky accessories to capture the character of their pet. This is just the beginning; she has lots of ideas for working with mixed media, collage and fabric. She would also love to see her cats in print on home furnishings and stationery. It's early days but she is enjoying the challenges her supportive and returning customers give her. They're a popular and affordable purchase as a present for a loved one and often to treasure the memory of a passed pet. Genna is approachable and will discuss any requests and keep you involved in the process from initial design right through to final finishing touches.
QueenHarts joined Society6 on November 22, 2016.