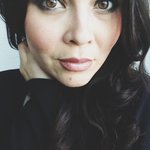 THE WILD IN-BETWEEN
This? This is art for all you hold sacred. And I? I am a wife and mom of three. I am a word weaving, book devouring, photo taking, tattoo adoring, occult loving, pretty handwriting coveter. I am also the owner and artist of The Wild In-Between. Thank you for stopping by. :) THE WILD IN-BETWEEN joined Society6 on September 25, 2013
More
This? This is art for all you hold sacred.
And I? I am a wife and mom of three. I am a word weaving, book devouring, photo taking, tattoo adoring, occult loving, pretty handwriting coveter. I am also the owner and artist of The Wild In-Between.
Thank you for stopping by. :)
THE WILD IN-BETWEEN joined Society6 on September 25, 2013.