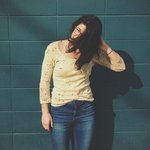 Rachael Creative
Hey! I'm Rachael (formerly Evans) Stimson. I live in Dallas with my husband, Chris and our lil pup, Charlie girl. We enjoy trying any restaurant in Dallas that has delicious mac n' cheese, hanging with friends and watching Parks n' Rec. As for me, I like coffee, wine, doodling and pretending that I can take care of succulents. I avoid instructions, recipes and sticking to any type of schedule. Creating stationery and other forms of art has been a passion of mine since I was young. Recently I am making a big effort to pursue this entrepreneurial artistic spirit of mine. All of my designs originate from something or someone personal to me and I'm so excited to be sharing them with the world. Rachael Creative joined Society6 on March 5, 2012
More
Hey! I'm Rachael (formerly Evans) Stimson. I live in Dallas with my husband, Chris and our lil pup, Charlie girl. We enjoy trying any restaurant in Dallas that has delicious mac n' cheese, hanging with friends and watching Parks n' Rec. As for me, I like coffee, wine, doodling and pretending that I can take care of succulents. I avoid instructions, recipes and sticking to any type of schedule.
Creating stationery and other forms of art has been a passion of mine since I was young. Recently I am making a big effort to pursue this entrepreneurial artistic spirit of mine. All of my designs originate from something or someone personal to me and I'm so excited to be sharing them with the world.
Rachael Creative joined Society6 on March 5, 2012.
Phone Skins by Rachael Creative
2 results
Filter