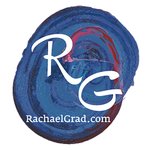 Rachael Grad Art
Color is the uniting factor in my artwork. Painting and drawing are my main focus but I also incorporate mixed media collage and photography into my studio practice.
Trained to work from life as an observational painter, my artwork combines painting from life with abstract marks of color. Current series include landscape drawings, abstracted interiors, wild flower paintings and meditative abstract color studies.
Whether it's my children's toys, travel photographs or Toronto gardens and flowers, color combinations inspire and excite me. I love exploring and observing color in the world around me then trying to capture what I see in painting or drawing.
I'm a Toronto artist, mom of three and recovered lawyer who has studied and worked in the US, France, Italy and Hong Kong. For as long as I can remember, I've created, studied, and obsessed about making art. In 2008, I left practicing law to study painting full-time in New York City at the New York Studio School.
My artwork has been shown in solo and group shows in Washington, DC, New York City, Venice, Italy, and the Toronto area. I hold degrees from Brandeis University (BA, Honors in Economics & Minor in French Literature), Duke University School of Law (JD) and Sciences Po in Paris, France (Diploma, International Relations). I've studied painting and drawing at New York University, the New York Studio School and OCAD.
My artwork has been shown in solo and group shows in Washington, DC, New York City, Venice, Italy, and Markham, Ontario
Read more