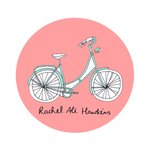 Rachel Ali Hawkins
Rachel Ali Hawkins is an Illustrator and Designer with an interest in pattern, print, craft and the handmade. Having grown up in Norfolk, she then moved to study Illustration at The Arts University Bournemouth, where Marcus Oakley taught her. Rachel now spends time between Norfolk and London, and is willing to travel for work and collaborations. Rachel's work always begins in a sketchbook before being developed further on the computer or in the print room. Her work focuses on simplicity and line work with her inspirations coming from objects that surround her, collections and nostalgia. www.rachelalihawkins.co.uk https://www.facebook.com/rachelalihawkins Twitter: rachalihawkins Instagram: rachelalihawkins Rachel Ali Hawkins joined Society6 on March 28, 2014
More
Rachel Ali Hawkins is an Illustrator and Designer with an interest in pattern, print, craft and the handmade. Having grown up in Norfolk, she then moved to study Illustration at The Arts University Bournemouth, where Marcus Oakley taught her. Rachel now spends time between Norfolk and London, and is willing to travel for work and collaborations. Rachel's work always begins in a sketchbook before being developed further on the computer or in the print room. Her work focuses on simplicity and line work with her inspirations coming from objects that surround her, collections and nostalgia.
www.rachelalihawkins.co.uk https://www.facebook.com/rachelalihawkins Twitter: rachalihawkins Instagram: rachelalihawkins
Rachel Ali Hawkins joined Society6 on March 28, 2014.