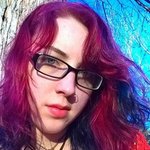 Rachel Bates
I'm a largely self taught artist, and for the most part I work traditionally rather than digitally, though I like to expand my knowledge and skill as much as I can. I'll keep posting my designs as they become available, but let me know if you're interested in seeing anything that isn't posted, or seeing a different version of what I have up. You can also find me and my work on Facebook: https://www.facebook.com/klunkyboots DeviantArt: http://klunkyboots.deviantart.com/ RedBubble: http://www.redbubble.com/people/klunkybootsart Tumlr: http://klunkyboots.tumblr.com/ Instagram: https://instagram.com/klunkybootsart/ Wysp: http://www.wysp.ws/klunkyboots/ Rachel Bates joined Society6 on December 13, 2013
More
I'm a largely self taught artist, and for the most part I work traditionally rather than digitally, though I like to expand my knowledge and skill as much as I can.
I'll keep posting my designs as they become available, but let me know if you're interested in seeing anything that isn't posted, or seeing a different version of what I have up.
You can also find me and my work on Facebook: https://www.facebook.com/klunkyboots DeviantArt: http://klunkyboots.deviantart.com/ RedBubble: http://www.redbubble.com/people/klunkybootsart Tumlr: http://klunkyboots.tumblr.com/ Instagram: https://instagram.com/klunkybootsart/ Wysp: http://www.wysp.ws/klunkyboots/
Rachel Bates joined Society6 on December 13, 2013.