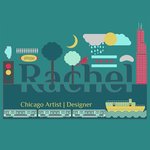 Rachel Baum
My illustrations come from the heart. I want to spread love, happiness, and kindness through my artwork and make people a little bit happier and the world a little bit better.
About my style: I have developed a unique illustration style that my boyfriend refers to as "stitching" around my images. I work with mixed media and my concentration is animals, love, gratitude and happiness.
All art and quotes are created by me! I became an artist because I love to create!
I'm an animal and nature lover, traveler, movie watcher, cultural events attender, volunteer and experimenter of new recipes.
I'm grateful for the opportunity to share my work with you. Thank you for stopping by.
Read more
Rachel Baum's Store
13 results
Filter