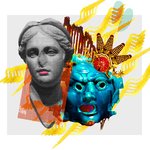 Rachel Clore
Hey there! My name is Rachel Clore and I'm a textile designer. I'm currently available for commissions and other career opportunities, feel free to contact me at rclore1989@gmail.com. My website is http://rachelclore.com/ I am a guest blogger for: http://huntandgatherstudio.blogspot.com/ http://fashionvignette.blogspot.com/ Follow me on Pinterest! http://pinterest.com/rachelclore/ Rachel Clore joined Society6 on June 13, 2013
More
Hey there! My name is Rachel Clore and I'm a textile designer. I'm currently available for commissions and other career opportunities, feel free to contact me at rclore1989@gmail.com.
My website is http://rachelclore.com/
I am a guest blogger for: http://huntandgatherstudio.blogspot.com/
http://fashionvignette.blogspot.com/
Follow me on Pinterest! http://pinterest.com/rachelclore/
Rachel Clore joined Society6 on June 13, 2013.